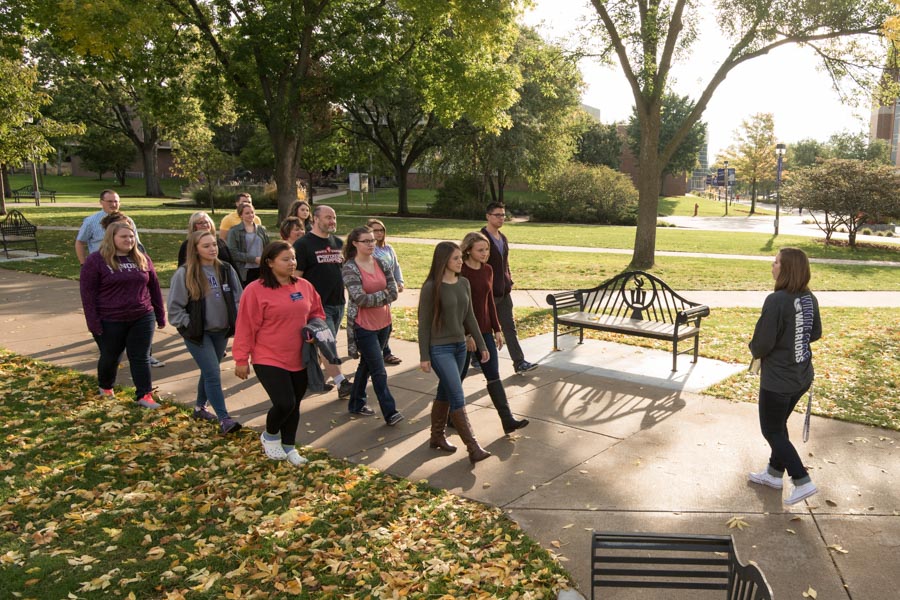 Group Visits
Group visits are designed for high school groups and educational organizations that want to learn more about WSU.
Explore all that's possible at Winona State University with an on-campus visit or a virtual visit for your group.
A standard group visit includes a 30-minute Admissions Presentation.
Your group might also opt to include additional experiences such as:
Office of Equity and Inclusive Excellence Guest Speaker: 15 minutes
TRIO Guest Speaker: 15 minutes
Housing and Residence Life Overview: 15 minutes
Current Student Spotlight: 15 minutes
Schedule a Visit
Group visits can be scheduled on weekdays on a first come, first serve basis.
You must reserve your group visit at least 3 weeks in advance. To schedule a group visit, complete the Group Visit Request Form.
Confirm Visit Details
Watch for a follow-up email that confirms your visit details and officially schedules your visit.
This email will also include the link for your virtual visit if you're planning to visit online.
Contact the Admissions Office at groupvisits@winona.edu or 507.457.5100 if you have any questions.
Arrive for Your Group Visit
Encourage each student to fill out the Admissions Office contact information form prior to your visit day.
Groups arriving more than 15 minutes late aren't guaranteed their full agenda.
If your group is having technical difficulties on the day of your virtual visit, please contact the Admissions Office at 507.457.5100.