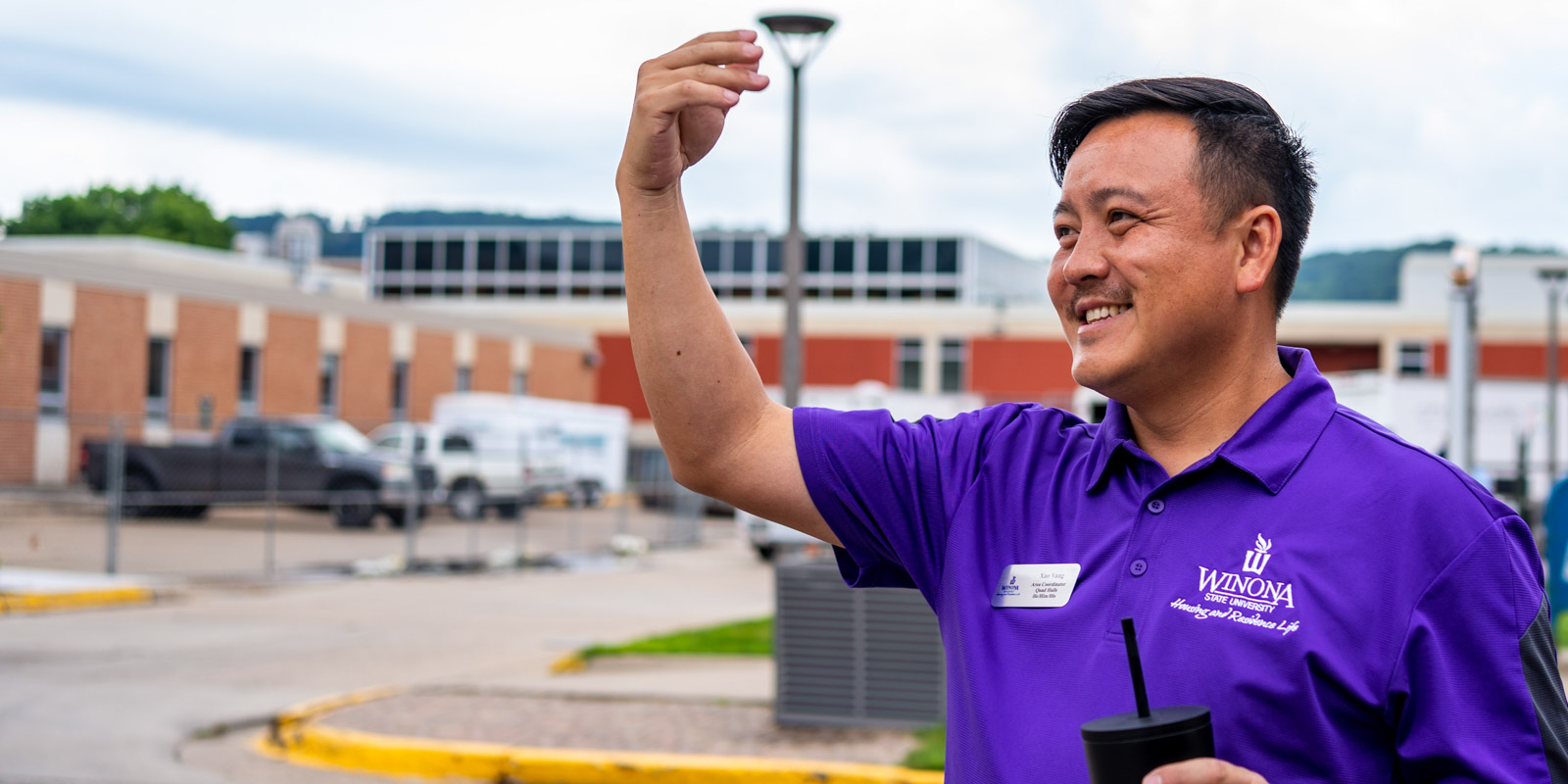 Employment
Though much attention is given to the thousands of students WSU serves every year, we know that we'd be nothing without our employees.
If you're interested in improving the world in an academic setting, WSU invites you to join our community.
We have a lot to offer our employees at both the Winona and Rochester campuses in terms of social activities, cultural opportunities, and ways to get involved—not to mention the beautiful scenery.
WSU has employment opportunities at all levels, from administrative to faculty to service jobs.
Support the Next Generation
As a university, we're dedicated to providing a modern, top-notch education that prepares our graduates to thrive in their careers, their lives, and their communities.
These are the next generation of teachers, nurses, entrepreneurs, scientists, leaders, and artists.
And every employee plays a role in supporting our students, improving their college experiences, and ensuring their success.
Grow in Your Career
At WSU, there's room to move as your career progresses.
You could move up to more responsibilities or move between departments while staying in the same role.
You'll find opportunities for professional development with conferences and seminars to keep your skills sharp.
Continue your education with tuition waiver benefits that can be used at any Minnesota State institution.
Enjoy Great Benefits
WSU offers comprehensive health insurance—including dental and vision plans—and life insurance at an affordable cost for employees.
Accrue vacation time as well as sick time every paycheck and enjoy 11 paid holidays every year.
You'll also have mandatory and voluntary options for retirement savings—maybe even a pension, depending on your union.
Shared Governance
Under our shared governance system, all faculty and staff are welcome to provide input on decisions regarding the University.
You're encouraged to serve on campus committees and get involved in initiatives that interest you.
The campus union bargaining units frequently raise issues and push for innovations on campus. Local representatives regularly meet and confer with University administrators.
Open Positions
Take a look at our open positions to find one that suits your skills.
Winona State is an equal opportunity employer and educator. All job applications are posted online.
The Search Process
WSU uses a hiring search process to ensure that the best qualified person is hired and to prevent discrimination against candidates.
A search committee is a group of current employees who represent various unions on campus, so that candidates are considered from multiple perspectives.
The Process Takes Time
It is not unusual for a search process to take around 3 months in a best-case scenario.
Sometimes, the search process can stretch even longer because the committee members are volunteering to serve in addition to their regular workload.
Although the search process is intended to be fair and transparent, candidates are not informed that they haven't been selected for the next stage.
You won't hear back on your application until an official hire is completed.
Salaries are determined based upon education and years of experience.
If you have specific questions regarding salary or benefits, please contact Human Resources at 507.457.5005.
The search process can take between 60–90 days to complete from application to a hiring offer.
If you have any questions about the status of a search, please contact the Affirmative Action Office at 507.457.2766 or 507.457.5280.
If you have a concern or a complaint, please contact Lori Mikl, Director of Affirmative Action/Equity and Legal Affairs by email at lmikl@winona.edu or phone at 507.457.2766.
If you've forgotten to attach a document to your application, please send the document to jobs@winona.edu.
If you've made a mistake or want to update your application materials, please send your revised document(s) to jobs@winona.edu and ask that your previously attached document(s) be replaced.
The University will not accept revised documents after the committee has begun its review of applications.
You may either attach them to your online application at the time you apply or have them emailed to jobs@winona.edu.
We will attach them to your application for you if letters are received via email.