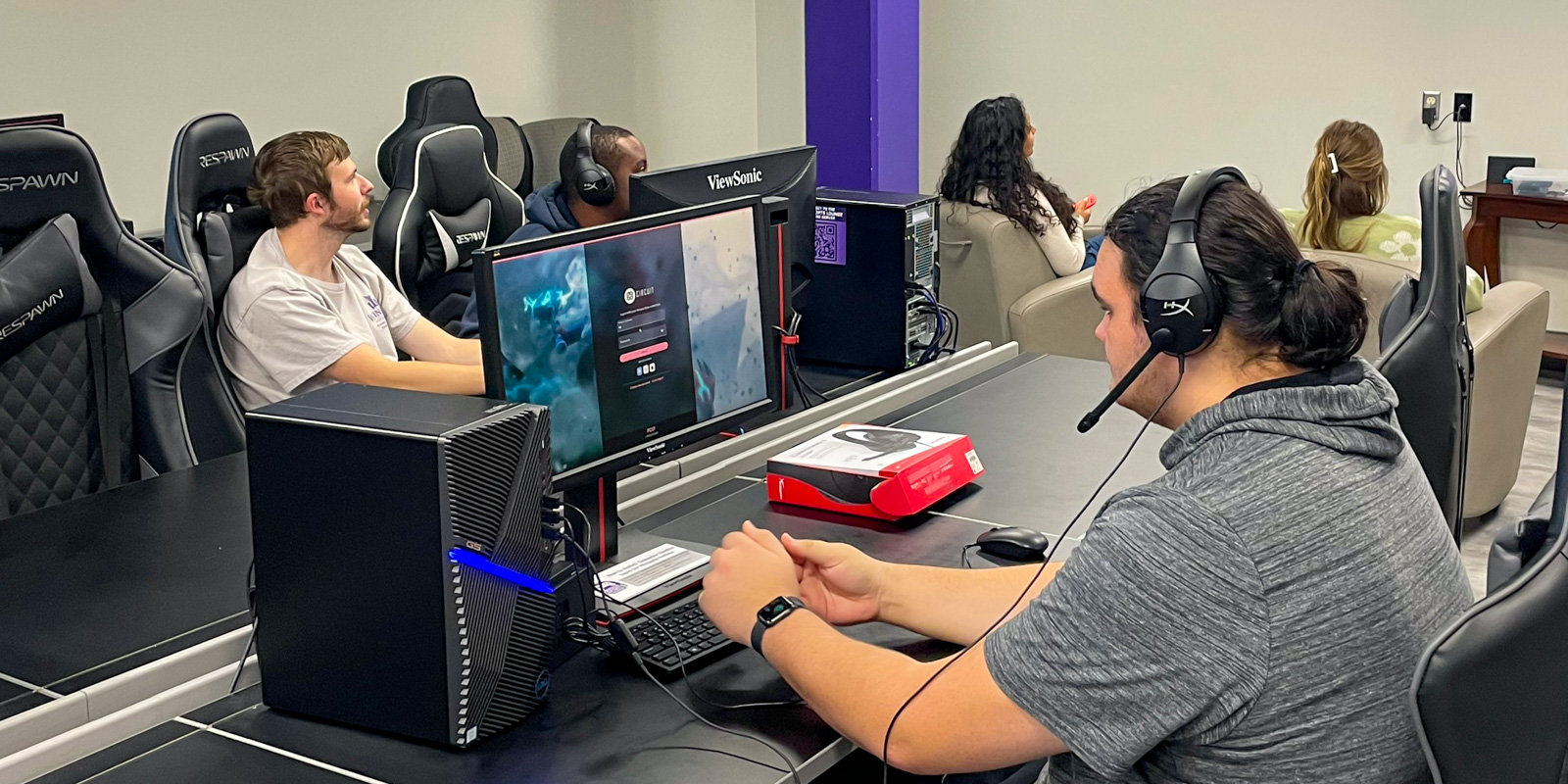 Warrior Esports Lounge
Whether you're a new player or seasoned veteran, the Warrior Esports Lounge is a place for you to enjoy video games and be around others who enjoy them too.
The Warrior Esports gaming lounge located in Kryzsko Commons 107 that is open year-round:
Fall & Spring Semesters: Open Daily from 10am–10pm
Summer: Monday–Friday from 8am–5pm
Always Free to Play
Each person can have up to 4 hours of PC/Switch access per day.
You will use a platform called ggLeap to access games.
To create an account, visit the Student Union Resource Center desk in Kryzsko Commons. Staff will set you up and explain how the space works.
You must check in at the Resource Center desk to unlock the machines and you will use your WSU ID to access the gaming equipment.
Peripherals (keyboard, mouse, controller, mouse pad, headsets) are available for free. You may bring your own peripherals.
If you have your own launcher account, such as Steam, you can use it.
New users must create their own accounts for free games. Limited licenses will be available for paid games.
Open to Students & Guests
The lounge is large enough for 20 people at one time. PCs and Nintendo Switch consoles are available on a first come first use basis.
Individual reservations are not available.
Recognized student organizations should email esports@winona.edu for help.
Guests can only use the equipment if a WSU student takes responsibility for them.
If space is needed for a WSU user, then guests may be asked to leave.
Code of Conduct
Everyone in the Warrior Esports Lounge is expected to follow these rules:
No food or open beverages at desks
Do not add or remove cables from computers or wall plates
Do not move furniture
No yelling, swearing or profane language
Respect the equipment–do not throw or modify peripherals
Harassment or bullying will not be tolerated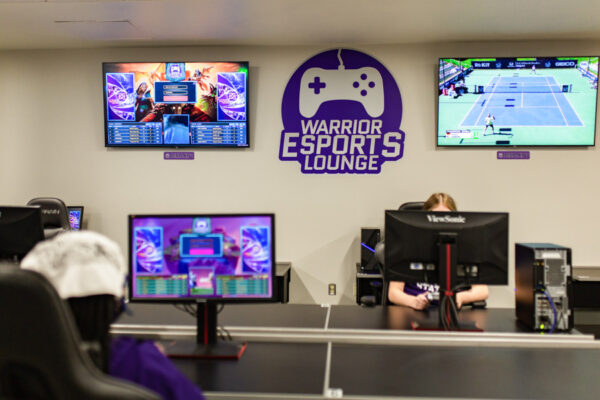 Chat on Discord
Chat with other players in the lounge and connect with management staff on our Discord server.
The Warrior Esports Lounge is outfitted with:
8 High Powered Gaming PCs
6 Nintendo Switches
5 – 65" Sony TVs
There are also peripherals available such as headsets, controllers, and keyboards.
PC
Model: Dell G5 Gaming Desktop
Processor: 9th Gen Intel Core i5 9600K
Video Card: NVIDIA GeForce GTX 1660 Ti 6GB GDDR6
Memory: 16GB Dual Channel DDR4 at 2666MHz
Hard Drive: 1TB M.2 PCIe NVMe Solid State Drive
Capture Card: elgato HD60 Pro
Monitor
Model: ViewSonic XG2401
Size: 24 inches
Resolution: 1920×1080
Response Time: 1ms
Refresh Rate: 144hz
Contrast Ratio: 1000:1
Brightness: 350 cd/m2
Panel: TN
Light Source: LED
Peripherals available for checkout:
Xbox Controller
Keyboard
Mouse
Mousepad
Headsets
Choose from the following games. Additional games may be available upon request.
Among us
Apex
COD: Modern Warfare
COD: Warzone 2.0
Counter Strike
Dead by Daylight
Destiny 2
Dota 2 VALve
Dota 2
Fifa 21
Fall guys
Fortnite
Grand Theft Auto
HearthStone
League of Legends
Left 4 Dead 2
Madden 21
Minecraft
NBA2K21
Overwatch 2
PUBG Battlegrounds
Rainbowsix Siege
Rocket League
Valorant
Contact the Student Union