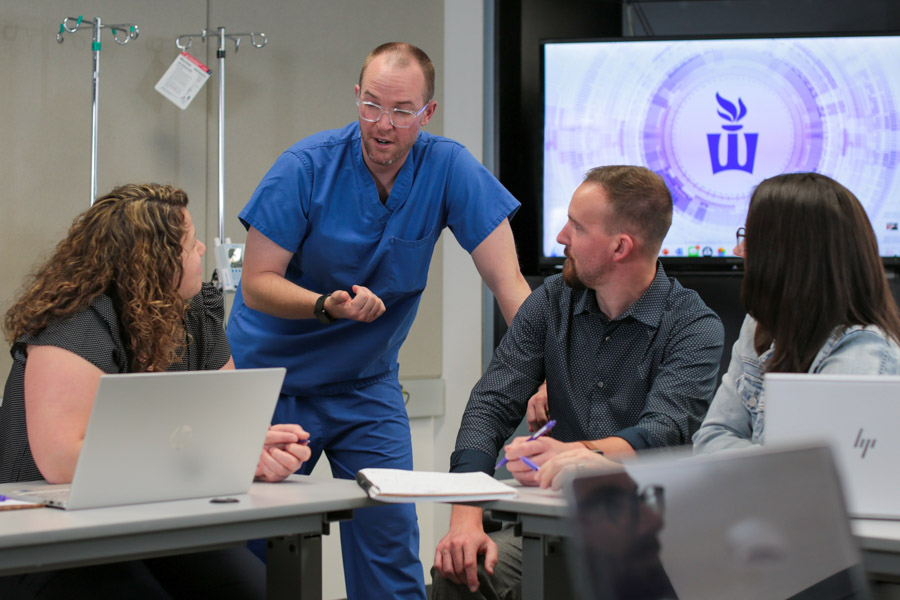 Health/Healthcare Leadership
PROGRAM SNAPSHOT

Location: Online
Starting Semester: Fall Semester
Program Credits: 34
Combine your passions for data and health care. Explore how clinical analytics are improving the healthcare, leadership, and management industries.
Why Study Health/Healthcare Leadership at Winona State University?
Between the rise in new technology and the shift in patient and industry philosophies, healthcare services are in high demand. The world needs more medical and health service managers.
The good news is that there's a greater availability of electronic health data.
As a result, there's now an incredible opportunity to use large-scale, clinical analytics to predict trends. We can use this data to manage risks and improve patient outcomes, personal health, and overall health care.
With the online Health/Healthcare Leadership (HHL) master's degree through WSU's Healthcare Leadership and Administration (HLA) Department, you'll be ready to start your career as a data-driven healthcare leader.
This program is the first in the Minnesota State system to offer a unique data-driven focus that you won't find elsewhere. This program also aligns with Commission on Accreditation of Health Management Education (CAHME) standards.
What Will You Learn as a Health/Healthcare Leadership Student?
As an HHL student, you'll learn how to collect, understand, and present data within the healthcare field.
You'll also:
get hands-on experience analyzing and critiquing analytics and applying evidence-based practices in your own work environment.
learn about current techniques and ethics to effectively lead individual health groups and entire healthcare organizations.
gain the training and skills you need to help these groups and organizations find solutions and improve both their operations and results.
This program will set you up for success and show you how to thrive in today's future-focused health market.
Program Highlights
The Health/Healthcare Leadership program features flexible coursework, customized entry options, data-driven projects, and personalized advising.
Flexible Coursework
Coursework is delivered entirely online, making the HHL program great for anyone who wants to fit their education into their personal and professional lives.
And with asynchronous classes, you can complete your assignments anytime, anywhere. This means you can take your career to the next level at your own pace.
Customized Entry Options
Earn credits that count toward both your bachelor's degree in Healthcare Leadership or Health and Wellness Management and your HHL master's degree with the Undergraduate + Graduate path.
Or build on your professional experience in health, allied health, or health care with the Graduate Only path.
Data-Driven Projects
You'll look for opportunities to improve your workplace by analyzing data, recommending changes, and evaluating the impact of those changes on your job's policies and processes.
These research projects are designed to have real-world implications for your job environment. These projects also make where you work your classroom too.
Personalized Advising
You'll receive personalized student advising services and other support as you enroll in the HHL program to when you graduate.
You can also apply credits you previously earned or earn credit for relevant professional experiences toward this degree, saving you time and money.
Hear from Health/Healthcare Leadership Alumni
WSU has offered me the opportunity to be a progressive graduate-level learner within the healthcare field while simultaneously working full-time and raising a young family.
Heather Slama '22
I can connect my full-time working reality with the classroom content, which makes the assignments more relatable!
Damian Paulson '22
The courses are helping me in my organization right now, and it's helping me shape my future career path.
Anna Larson '22
According to the Bureau of Labor Statistics, the field for medical and health services managers is predicted to grow 32% by 2030.
With a master's degree in Health/Healthcare Leadership, you can achieve job titles with employers such as: