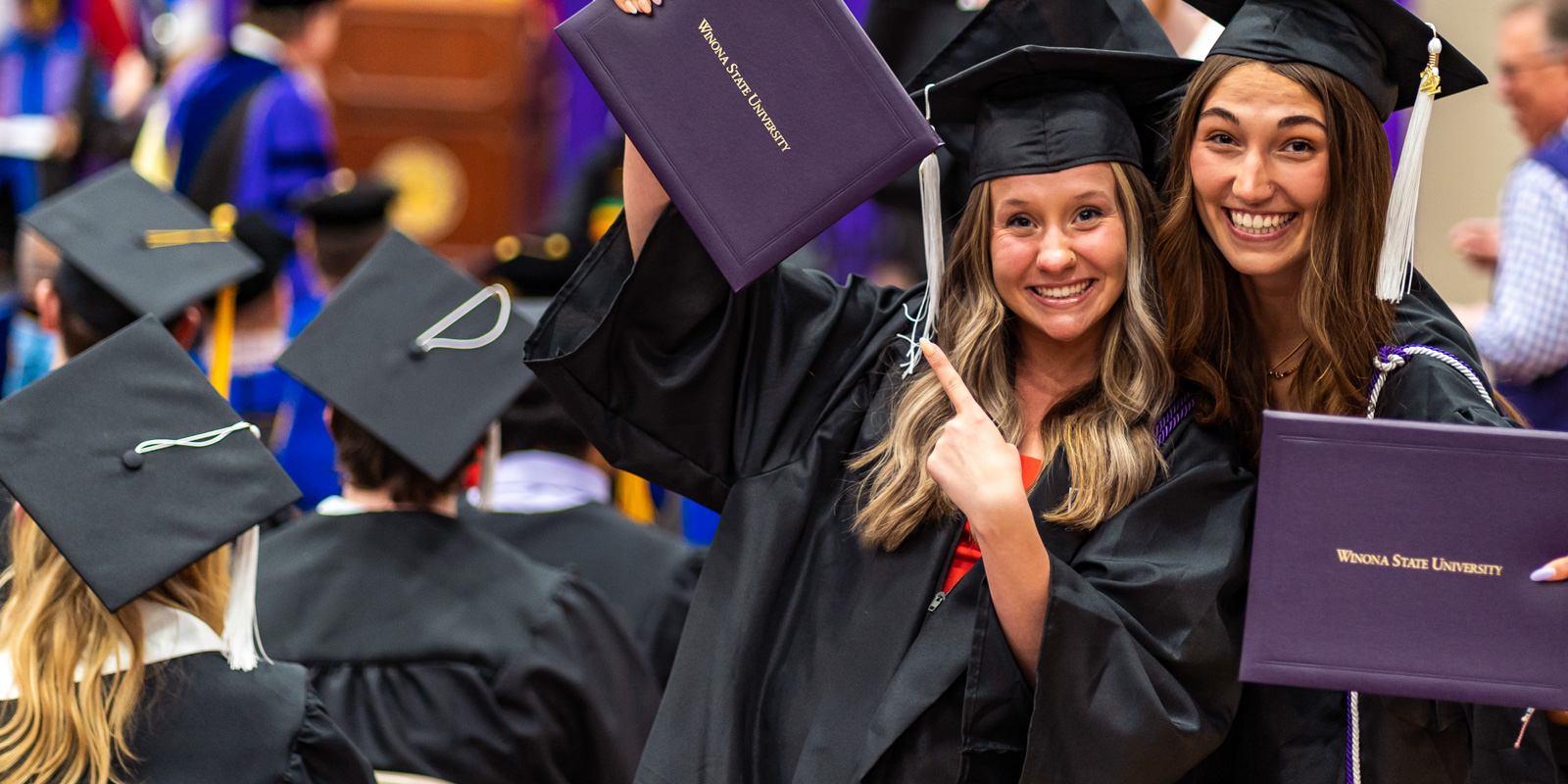 Commencement
Each semester, WSU hosts an in-person commencement ceremony to recognize our graduates. The ceremony is also livestreamed for family and friends to view online.
Let's Celebrate Our Graduates
Fall 2023 Commencement is on Friday, Dec. 8. The ceremony is typically 60-90 minutes.
Students who wish to participate need to register by Oct. 20. All Fall 2023 graduates are automatically enrolled in the Graduation Readiness D2L course and will receive commencement information via their WSU email.
9am Ceremony
College of Business
College of Liberal Arts
College of Science & Engineering
11:30am Ceremony
College of Education
College of Nursing & Health Sciences
You do not need to download or sign up for Microsoft Teams to watch the livestream. Simply cancel any prompts to open Teams and choose to watch the livestream on the web instead.
Tickets for Guests
Tickets are not required for guests attending the Fall 2023 Commencement ceremonies.
International students can also learn more about getting a visitor visa for family members.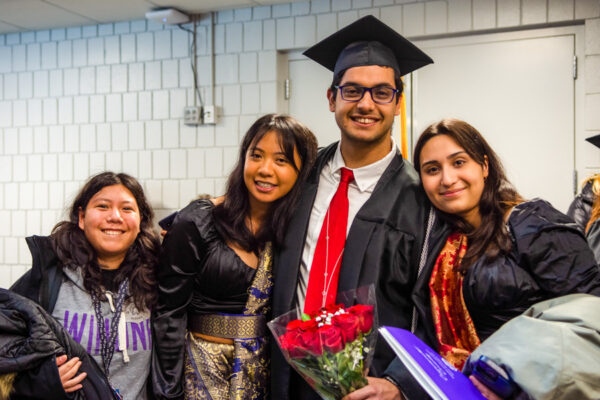 After the Ceremony
Graduates will follow the stage party out of McCown Gym, and those who choose to ring the WSU Commencement Bell may do so at the central campus gazebo.
Guests are asked to wait to exit the gym and auditorium until the graduates are outside.
Please plan to meet your guests outside of the IWC building.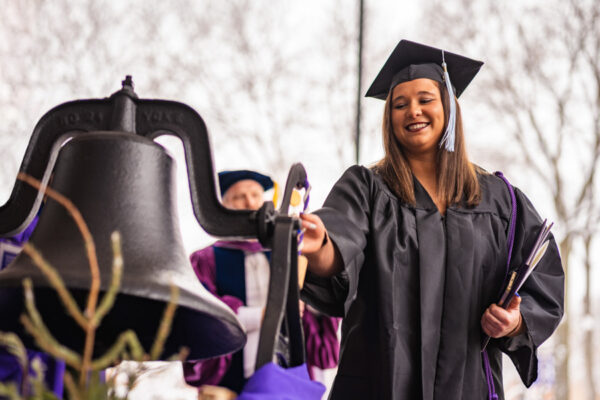 View the campus map or Google Maps for help navigating our campus.
Parking
All WSU parking lots are free of charge on Commencement day. Take a look at our Campus Parking Map (PDF) for parking available on campus.
Drop off for elderly and those with physical limitations is located at the end of Johnson Street. This can be accessed via Mark Street.
Parking for individuals with limited mobility is available on Johnson Street. This area is denoted as Metered Parking and outlined on the campus parking map.
Accessibility Accommodations
A portion of seating will be reserved to accommodate people with limited accessibility.
Please advise ushers of your accessibility needs, and you'll be directed to the area of the venue that suits your needs.
If a sign language interpreter is needed, please notify graduation@winona.edu at least 6 weeks in advance.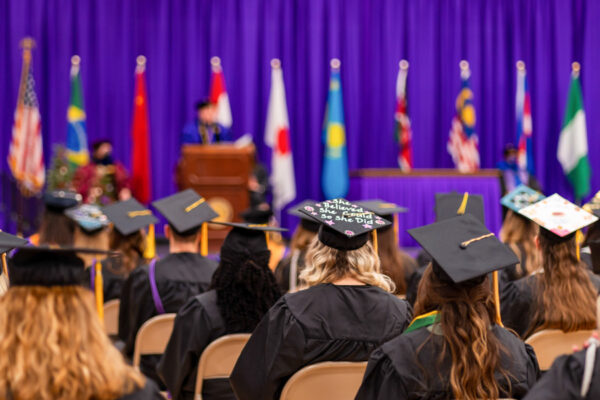 Photography
To respect the dignity of the ceremony, guests are not allowed on the gym floor.
Please remain seated during the ceremony so that everyone can see their degree candidates recognized.
A professional photographer will photograph each candidate during the ceremony. If you have questions about photo packages, contact graduation@winona.edu.
Graduating students will be notified via their WSU email account that their photos are ready and available for purchase.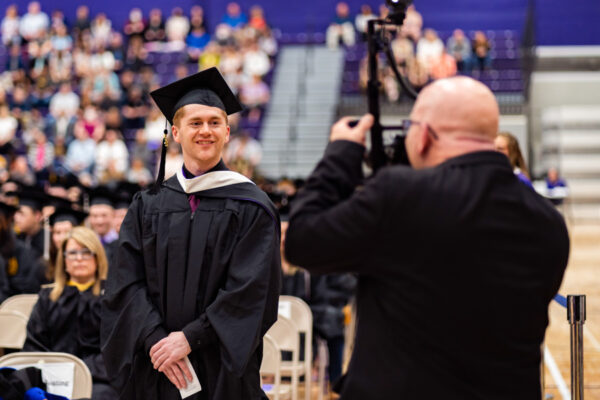 Meet the Class of 2023
After years of hard work, the Class of 2023 is ready to graduate.
They've pushed themselves to gain new skills and overcome challenges. They've built friendships and created memories that will last a lifetime.
Everyone at WSU is excited to see how our newest Warrior graduates will go out and continue improving our world.
Undergraduate
| | | | | |
| --- | --- | --- | --- | --- |
| Name | Honors | Major | Degree | Hometown |
| Roberto Acuna | | Accounting | Bachelor of Science | Rochester, MN |
| Christian Thomas Adamson | Magna Cum Laude | Marketing | Bachelor of Science | Oronoco, MN |
| Tristan Andrew Aldrich | | Finance | Bachelor of Science | Plover, WI |
| Thomas Alexander Allen | | Business Administration | Bachelor of Science | Monticello, MN |
| Ryan Starke Allgood | | Finance | Bachelor of Science | Burnsville, MN |
| Dakota John Anderson | | Accounting | Bachelor of Science | Rochester, MN |
| Jacob Theodore Anderson | | Finance | Bachelor of Science | Lewiston, MN |
| Zachary William Anderson | Cum Laude | Business Administration | Bachelor of Science | Lewiston, MN |
| David John Andrews Jr | | Marketing | Bachelor of Science | Stillwater, MN |
| Brady Allan Aumann | | Management Information Systems | Bachelor of Science | Marshfield, WI |
| Tanner C Barbeau | | Human Resources Management | Bachelor of Science | Medford, MN |
| ellie barker | Cum Laude | Marketing | Bachelor of Science | Hastings, MN |
| Brooklyn Alexandra Bau | | Management Information Systems | Bachelor of Science | Farmington, MN |
| Nathan James Becker | | Business Administration | Bachelor of Science | Black River Falls, WI |
| Brooke W. Bentzen | Magna Cum Laude | Accounting | Bachelor of Science | La Crosse, WI |
| Samuel G Berg | | Marketing | Bachelor of Science | Coon Valley, WI |
| Tyler Adam Berndt | | Marketing | Bachelor of Science | Fond du Lac, WI |
| Margaret M Bisset | | Human Resources Management | Bachelor of Science | Coon Rapids, MN |
| Colby Dean Bowyer | | Business Administration | Bachelor of Science | Libertyville, IL |
| Ireland Rose Broadwater | | Accounting | Bachelor of Science | Rochester, MN |
| Blake Michael Brooks | | Business Administration | Bachelor of Science | Sparta, WI |
| Grace Kathryn Budach | | Business Administration | Bachelor of Science | Hastings, MN |
| Alexander Thomas Buerck | | Accounting | Bachelor of Science | Winona, MN |
| Danielle Lynn Burns | | Marketing | Bachelor of Science | New Prague, MN |
| Bailey Jack Callander | Summa Cum Laude | Accounting / Management Information Systems | Bachelor of Science | Brisbane, Australia |
| Sara Elizabeth Carlson | | Business Administration | Bachelor of Science | Rochester, MN |
| Hogan Donald Costa | | Business Administration / Human Resources Management | Bachelor of Science | Stillwater, MN |
| Benjamin Daniel DeGroat | | Finance | Bachelor of Science | Blaine, MN |
| Kelly Marie Dieser | Summa Cum Laude | Business Administration | Bachelor of Science | Austin, MN |
| Nicole F Duellman | | Business Administration | Bachelor of Science | Winona, MN |
| Elizabeth Dunne | | Marketing | Bachelor of Science | Mequon, WI |
| Karissa Rose Eide | Magna Cum Laude | Human Resources Management | Bachelor of Science | Rushford, MN |
| Abraham Charles Elmore | | Business Administration | Bachelor of Science | Mesa, AZ |
| John Richard Enneking | | Business Administration | Bachelor of Science | Sussex, WI |
| Nolan RYAN Fischbach | | Marketing | Bachelor of Science | Albertville, MN |
| Shelby Ann Fogelson | | Accounting | Bachelor of Science | Fairmont, MN |
| Sarah Michele Frank | Magna Cum Laude | Marketing | Bachelor of Science | Janesville, WI |
| Courtney L Fredrickson | | Marketing | Bachelor of Science | Northfield, MN |
| Lisa Ann Gapinski | | Human Resources Management | Bachelor of Science | Rochester, MN |
| Ty Anthony Gavin | | Business Administration | Bachelor of Science | Chicago, IL |
| Gabriella Elizabeth Gedville | Magna Cum Laude | Business Administration / Human Resources Management | Bachelor of Science | Mokena, IL |
| Heidi Goehring | | Business Administration | Bachelor of Science | Lindstrom, MN |
| Corey Douglas Goeltl | | Marketing | Bachelor of Science | Hugo, MN |
| Brandy Gommels | | Business Administration | Bachelor of Science | Winona, MN |
| Gabriel Goodman | Cum Laude | Marketing | Bachelor of Science | Lakewood, CO |
| Quinten Thomas Gross | | Business Administration | Bachelor of Science | Sun Prairie, WI |
| Katelyn Renee Gumbel | | Accounting | Bachelor of Science | Mankato, MN |
| Addison M Hawkins | Summa Cum Laude | Accounting | Bachelor of Science | Mora, MN |
| Nathaniel Hayes | | Marketing | Bachelor of Science | Chippewa Falls, WI |
| Grace Olivia Hetlet | | Marketing | Bachelor of Science | Burlington, WI |
| Rikuto Hida | | Economics | Bachelor of Arts | Urayasu, Japan |
| Jerod Donald Hofbauer | Summa Cum Laude | Accounting | Bachelor of Science | Rochester, MN |
| Grace E Horwath | Magna Cum Laude | Business Administration | Bachelor of Science | Hubertus, WI |
| Kylie Hundorf | | Business Administration | Bachelor of Science | Winona, MN |
| Idris Idiris | | Business Administration | Bachelor of Science | Rochester, MN |
| Jitu JINATH Jalal | | Management Information Systems | Bachelor of Science | Winona, MN |
| Karl Jaschke | | Accounting | Bachelor of Science | Saint Paul, MN |
| Alec Jeffery Johnson | | Business Administration | Bachelor of Science | Burnsville, MN |
| Benjamin M Johnson | | Business Administration | Bachelor of Science | Sun Prairie, WI |
| Samuel Christopher Johnson | | Marketing | Bachelor of Science | Rochester, MN |
| Ajay Daniel Jorgenson | Magna Cum Laude | Business Administration | Bachelor of Science | Harmony, MN |
| Cooper James Kapanke | Summa Cum Laude | Marketing | Bachelor of Science | Eau Claire, WI |
| Garrett Michael Karston-O'Meara | | Business Administration | Bachelor of Science | Lakeville, MN |
| Hana Eileen Kazmierczak | | Marketing | Bachelor of Science | Hastings, MN |
| Rachel Hope Worden | | Accounting | Bachelor of Science | Chatfield, MN |
| Esau Elias King | | Human Resources Management | Bachelor of Science | Rochester, MN |
| Katelyn Kirchoffner | | Business Administration | Bachelor of Science | Burnsville, MN |
| Elly Grace Kramer | | Business Administration | Bachelor of Science | Winona, MN |
| Matthew Jerome Krueger | Magna Cum Laude | Accounting / Business Administration / Management Information Systems | Bachelor of Science | Kasota, MN |
| Declan Michael Kyler | | Marketing | Bachelor of Science | Mesa, AZ |
| Jack Myers Labatte | | Marketing | Bachelor of Science | Inver Grove Heights, MN |
| Matthew Erik Larsen | | Management Information Systems | Bachelor of Science | West Saint Paul, MN |
| Madison Jean Larson | Summa Cum Laude | Accounting | Bachelor of Science | Independence, IA |
| Olivia Kay Larson | Summa Cum Laude | Finance | Bachelor of Science | Kasson, MN |
| Isaac James LeBrun | | Business Administration | Bachelor of Science | Lonsdale, MN |
| Alexandria Bradtke Leum | Summa Cum Laude | Business Administration | Bachelor of Science | Viroqua, WI |
| Ashlie Ann Lockington | Summa Cum Laude | Finance | Bachelor of Science | Bangor, WI |
| Samantha Jean Loeffler | Cum Laude | Marketing / Business Administration | Bachelor of Science | Muskego, WI |
| Carly Diane Lueth | | Business Administration | Bachelor of Science | Eagan, MN |
| Sawyer John Maly | Cum Laude | Accounting | Bachelor of Science | Waunakee, WI |
| Luke Daniel Martens | | Business Administration / Marketing | Bachelor of Science | Apple Valley, MN |
| Dave Martin | | Management Information Systems / Business Administration | Bachelor of Science | Austin, MN |
| Nicole Renee McDonald | | Business Administration | Bachelor of Science | Watertown, MN |
| Maggie Rakhi McNamer | Summa Cum Laude | Accounting | Bachelor of Science | Minneapolis, MN |
| Megan Elizabeth McQueen- Stewart | | Human Resources Management | Bachelor of Science | Minneapolis, MN |
| Addy Mischler | | Marketing | Bachelor of Science | Appleton, WI |
| Cody Robert Morris | | Business Administration | Bachelor of Science | Rochester, MN |
| Hazelee J Mtanous | | Business Administration | Bachelor of Science | Rochester, MN |
| Kelsi Leigh Nick | Cum Laude | Accounting | Bachelor of Science | Shawano, WI |
| Annaka Ellen Rose Norland | Cum Laude | Accounting | Bachelor of Science | Island Lake, IL |
| Megan Marie Novak | | Marketing | Bachelor of Science | Burlington, WI |
| Allana Kathryn O'Donnell | | Human Resources Management | Bachelor of Science | Monticello, MN |
| Carlton Nyantika Ogata | | Finance | Bachelor of Science | Wayzata, MN |
| Awallei Okuch | | Human Resources Management | Bachelor of Science | Mankato, MN |
| Jack Olson | | Finance | Bachelor of Science | Eagan, MN |
| Maxwell Carl Owen | | Business Administration | Bachelor of Science | Pine Island, MN |
| Noah Snyder Pasiuk | | Human Resources Management | Bachelor of Science | Stillwater, MN |
| Allison J Picha | Magna Cum Laude | Business Administration | Bachelor of Science | Winona, MN |
| Taylor Leonard Pithan | | Business Administration | Bachelor of Science | Mankato, MN |
| Sydney Taylor Pitzen | | Business Administration | Bachelor of Science | Saint Charles, MN |
| Nathan Platter | | Finance | Bachelor of Science | Oconomowoc, WI |
| Joseph Daniel Precour | Summa Cum Laude | Accounting | Bachelor of Science | Lake in the Hills, IL |
| Cain Michael Putnam | Magna Cum Laude | Business Administration | Bachelor of Science | Wausau, WI |
| MacKenzie Ann Putnam | | Marketing | Bachelor of Science | Hastings, MN |
| Madeline Rae Ranfranz | | Business Administration | Bachelor of Science | Corcoran, MN |
| Melanie Ann Renforth | | Accounting / Marketing | Bachelor of Science | Waterloo, WI |
| Austin Jay Repinski | Magna Cum Laude | Marketing | Bachelor of Science | Cochrane, WI |
| Maria Soledad Rios Victoria | Cum Laude | Business Administration | Bachelor of Science | Rochester, MN |
| Tyler John Roske | | Accounting | Bachelor of Science | Shakopee, MN |
| Jared Isiah Russom | | Finance | Bachelor of Science | Menasha, WI |
| Sierra Rita Rustad | | Marketing | Bachelor of Science | Fountain, MN |
| Westin Scott Sannes | | Business Administration | Bachelor of Science | Northfield, MN |
| Jenna Gail Scanlan | | Business Administration | Bachelor of Science | Brownsville, MN |
| Jordan Marie Schindler | | Business Administration / Human Resources Management | Bachelor of Science | Stewartville, MN |
| Brooklyn Faith Schyvinck | Summa Cum Laude | Marketing | Bachelor of Science | Reedsburg, WI |
| Brennan Douglas Scow | | Human Resources Management | Bachelor of Science | Arcadia, WI |
| Riley Joseph Shay | | Finance | Bachelor of Science | Kasson, MN |
| Morgan Shulfer | | Human Resources Management | Bachelor of Science | Stevens Point, WI |
| Joseph Siewert | | Finance | Bachelor of Science | Hastings, MN |
| Adam N Smith | | Finance | Bachelor of Science | Kasson, MN |
| Megan Marie Hager | | Business Administration | Bachelor of Science | Wabasha, MN |
| Corbin M Starr | | Business Administration | Bachelor of Science | Rochester, MN |
| Usa Stiller | | Human Resources Management | Bachelor of Science | Elk River, MN |
| Jacob G Swanson | | Accounting | Bachelor of Science | Stewartville, MN |
| Reed Thompson | | Marketing | Bachelor of Science | Wauwatosa, WI |
| Wyatt J Tift | | Accounting | Bachelor of Science | Cumberland, WI |
| Zachary N Torgrimson | | Accounting | Bachelor of Science | Zumbrota, MN |
| Matthew Neil Turner | Summa Cum Laude | Accounting / Business Administration | Bachelor of Science | Winona, MN |
| Cory Wallace Utech | | Business Administration | Bachelor of Science | Dodge Center, MN |
| Ethan Mikael Victorson | | Marketing | Bachelor of Science | Oregon, WI |
| Jacob Ryan Vieth | Cum Laude | Business Administration | Bachelor of Science | Prairie Du Sac, WI |
| Sofia Domenica Wagner | | Business Administration | Bachelor of Science | Zumbrota, MN |
| Miller Brad Wallace | | Finance | Bachelor of Science | Oconomowoc, WI |
| Grace Madeline Waller | | Marketing | Bachelor of Science | Mosinee, WI |
| Michael Robert Warner | | Accounting | Bachelor of Science | Richfield, MN |
| Sam Taylor Weller | Magna Cum Laude | Finance | Bachelor of Science | Blaine, MN |
| Sarah Sophie Weninger | | Business Administration / Human Resources Management | Bachelor of Science | Westby, WI |
| Carson James Werwinski | | Marketing | Bachelor of Science | McFarland, WI |
| Joshua John Westfall | Cum Laude | Accounting | Bachelor of Science | Stewartville, MN |
| Rebecca Jo Williams | | Business Administration | Bachelor of Science | Rochester, MN |
| William Reed Wisgerhof | | Business Administration / Human Resources Management | Bachelor of Science | White Bear Lake, MN |
| Julia Grace Worke | Magna Cum Laude | Accounting / Business Administration | Bachelor of Science | Blooming Prairie, MN |
Master's
| | | | |
| --- | --- | --- | --- |
| Name | Program | Degree | Hometown |
| Koltan James Benrud | Professional Accounting | Master of Professional Accounting | Winona, MN |
| Mary Ellen Borwege | Professional Accounting | Master of Professional Accounting | Faribault, MN |
| Kyle Gendron | Professional Accounting | Master of Professional Accounting | Stillwater, WI |
| Christopher Halloran | Professional Accounting | Master of Professional Accounting | New Prague, MN |
| Kaitlyn Juenger | Professional Accounting | Master of Professional Accounting | Brownsdale, MN |
| Laura Kanitz | Professional Accounting | Master of Professional Accounting | Lakeville, MN |
| Dakota Langlois | Professional Accounting | Master of Professional Accounting | Marinette , WI |
| Sydney Mork | Professional Accounting | Master of Professional Accounting | Osceola, WI |
| Brady Omtvedt | Professional Accounting | Master of Professional Accounting | Madison Lake, MN |
| Sean Singh | Professional Accounting | Master of Professional Accounting | Clear Lake, WI |
Undergraduate
| | | | | |
| --- | --- | --- | --- | --- |
| Name | Honors | Major | Degree | Hometown |
| Katelyn Elizabeth Allbee | Summa Cum Laude | Elementary Education/K-6 Education | Bachelor of Science-Teaching | Farmington, MN |
| Marty Marie Amdahl | | Elementary Education/K-6 Education | Bachelor of Science-Teaching | Austin, MN |
| Fairy Kuhaybluhtoo Apolo | | Elementary Education/K-6 Education | Bachelor of Science-Teaching | Austin, MN |
| Jazmine Rain Arentz-Fredrickson | Cum Laude | Elementary Education with Early Childhood Emphasis | Bachelor of Science-Teaching | Sparta, WI |
| Gabriella Ann Ashton | Summa Cum Laude | Elementary Education/K-6 Education | Bachelor of Science-Teaching | Rochester, MN |
| Ninn Thiri Aung | | Elementary Education/K-6 Education | Bachelor of Science-Teaching | Albert Lea, MN |
| Rebecca L Baker | Summa Cum Laude | Elementary Education/K-6 Education | Bachelor of Science-Teaching | Viola, WI |
| Jessica Ann Bednar | | Elementary Education/K-6 Education | Bachelor of Science-Teaching | Austin, MN |
| Rachel A. Bera | Cum Laude | Elementary Education/K-6 Education | Bachelor of Science-Teaching | Albert Lea, MN |
| Cory Berger-hanig | | Elementary Education/K-6 Education | Bachelor of Science-Teaching | Forest Lake, MN |
| Jonny D Bodell | | Business Education | Bachelor of Science-Teaching | Chisago City, MN |
| Amanda Bohl | | Early Childhood Education (Birth – Grade 3) | Bachelor of Science-Teaching | Lino Lakes, MN |
| Lindsey Renee Brandstrom | | Early Childhood Education (Birth – Grade 3) | Bachelor of Science-Teaching | Bigfork, MN |
| Mika Pauline Brannan | Summa Cum Laude | Elementary Education/K-6 Education | Bachelor of Science-Teaching | Kasson, MN |
| Emma Shanna Breitsprecher | Cum Laude | Academic and Behavioral Strategist | Bachelor of Science-Teaching | Preston, MN |
| Abagale Elizabeth Brown | | Special Education: Developmental Disabilities | Bachelor of Science-Teaching | Edina, MN |
| Hanna Rose Bulau | | Academic and Behavioral Strategist | Bachelor of Science-Teaching | Oronoco, MN |
| Haley Burke | Cum Laude | Elementary Education with Early Childhood Emphasis | Bachelor of Science-Teaching | Muskego, WI |
| Kari Jo Campbell | | Elementary Education/K-6 Education | Bachelor of Science-Teaching | Saint Charles, MN |
| Danielle Claire Chapin | Summa Cum Laude | Elementary Education with Early Childhood Emphasis | Bachelor of Science-Teaching | Saint James, MN |
| Camryn Lynn Chouinard | Summa Cum Laude | Elementary Education/K-6 Education | Bachelor of Science-Teaching | Elk River, MN |
| Adam John Cochran | | Physical Education Teaching | Bachelor of Science-Teaching | Hopkins, MN |
| Mikayla Ann Cup | Magna Cum Laude | Elementary Education with Early Childhood Emphasis | Bachelor of Science-Teaching | Sussex, WI |
| Kiley Jo Curlee | | Elementary Education/K-6 Education | Bachelor of Science-Teaching | Pine Island, MN |
| Caitlin Loretta Dahl | Magna Cum Laude | Elementary Education with Early Childhood Emphasis / Special Education: Developmental Disabilities | Bachelor of Science-Teaching | Ellsworth, WI |
| Brynn Leigh Danielson | Summa Cum Laude | Academic and Behavioral Strategist / Elementary Education/K-6 Education | Bachelor of Science-Teaching | Saint Charles, MN |
| Kaya L Ditlevson | Cum Laude | Elementary Education with Early Childhood Emphasis | Bachelor of Science-Teaching | Kasson, MN |
| Marlee Marie Duwe | Cum Laude | Elementary Education with Early Childhood Emphasis | Bachelor of Science-Teaching | Decorah, IA |
| Savannah Nichole Egger | Cum Laude | Elementary Education with Early Childhood Emphasis | Bachelor of Science-Teaching | Janesville, WI |
| Kadia Battu Fau | Cum Laude | Elementary Education with Early Childhood Emphasis | Bachelor of Science-Teaching | Madison, WI |
| Matthew Thomas Felmlee | | Elementary Education/K-6 Education | Bachelor of Science-Teaching | Rochester, MN |
| Sarah Fischer | | Elementary Education/K-6 Education | Bachelor of Science-Teaching | Mahtomedi, MN |
| Grace Mary Schmidt | | Elementary Education/K-6 Education | Bachelor of Science-Teaching | Apple Valley, MN |
| Aidan Jay Frisby | Cum Laude | Physical Education Teaching | Bachelor of Science-Teaching | Genoa City, WI |
| Zella Rose Fruzyna | | Academic and Behavioral Strategist | Bachelor of Science-Teaching | Blaine, MN |
| Amanda Marie Garcia | | Elementary Education/K-6 Education | Bachelor of Science-Teaching | Rochester, MN |
| Kaitlyn Marie Golant | Magna Cum Laude | Elementary Education/K-6 Education | Bachelor of Science-Teaching | Lakeville, MN |
| Samuel Jacob Good | | Elementary Education/K-6 Education | Bachelor of Science-Teaching | Rochester, MN |
| Emily Rachel Goodnow | Magna Cum Laude | Elementary Education with Early Childhood Emphasis | Bachelor of Science-Teaching | Wyoming, MN |
| Elise M. Gort | Summa Cum Laude | Elementary Education/K-6 Education | Bachelor of Science-Teaching | Apple Valley, MN |
| Trista Jane Greiner | Magna Cum Laude | Early Childhood Education (Birth – Grade 3) | Bachelor of Science-Teaching | Mondovi, WI |
| Justin C Harms | Cum Laude | Physical Education Teaching / Health Promotion: School Health | Bachelor of Science-Teaching | Apple Valley, MN |
| Paige Bailey Heuer | | Elementary Education with Early Childhood Emphasis | Bachelor of Science-Teaching | Trempealeau, WI |
| Alyssa Ann Hoeschen | | Elementary Education/K-6 Education | Bachelor of Science-Teaching | Melrose, MN |
| Lauren Elizabeth Holets | Cum Laude | Elementary Education/K-6 Education | Bachelor of Science-Teaching | Austin, MN |
| Montanna Leann Holliday | | Elementary Education with Early Childhood Emphasis | Bachelor of Science-Teaching | Sparta, WI |
| Alexi L Huntington | Cum Laude | Elementary Education with Early Childhood Emphasis | Bachelor of Science-Teaching | Appleton, WI |
| Renae Joy Ingalls | Summa Cum Laude | Elementary Education with Early Childhood Emphasis | Bachelor of Science-Teaching | Chisago Lakes, MN |
| Hayley Elizabeth Jahnke | Summa Cum Laude | Elementary Education/K-6 Education | Bachelor of Science-Teaching | Blue Earth, MN |
| Grace Katharine Jensen | | Special Education: Developmental Disabilities | Bachelor of Science-Teaching | Saint Paul, MN |
| Dylan Andrew Johnson | | Elementary Education/K-6 Education | Bachelor of Science-Teaching | Lino Lakes, MN |
| Piper Lorianna Johnson | Magna Cum Laude | Elementary Education with Early Childhood Emphasis | Bachelor of Science-Teaching | Galesville, WI |
| Emma Marie Jordahl | Cum Laude | Elementary Education with Early Childhood Emphasis | Bachelor of Science-Teaching | Mound, MN |
| McKenna Rae Keeney | Magna Cum Laude | Elementary Education with Early Childhood Emphasis | Bachelor of Science-Teaching | Prairie du Chien, WI |
| Donna Marie Kent | | Early Childhood Education (Birth – Grade 3) | Bachelor of Science-Teaching | Waubun, MN |
| Jacqueline Marie Kile | | Special Education: Developmental Disabilities | Bachelor of Science-Teaching | Edina, MN |
| Alicia Grace Kinziger | Cum Laude | Elementary Education with Early Childhood Emphasis | Bachelor of Science-Teaching | Rice Lake, WI |
| Andrew Bernard Kjos | | Physical Education Teaching | Bachelor of Science-Teaching | La crosse, WI |
| Jessie Ann Kuehn | | Elementary Education with Early Childhood Emphasis | Bachelor of Science-Teaching | Cross Plains, WI |
| Sarah Marie Lawler | | Elementary Education/K-6 Education | Bachelor of Science-Teaching | Rochester, MN |
| Ava Alejandra Lehman | | Elementary Education/K-6 Education | Bachelor of Science-Teaching | Wauwatosa, WI |
| Bailee Marie Loberg | Cum Laude | Elementary Education/K-6 Education | Bachelor of Science-Teaching | Rochester, MN |
| Zoe Elizabeth Lyon | Cum Laude | Early Childhood Education (Birth – Grade 3) | Bachelor of Science-Teaching | Amery, WI |
| Austin Nathaniel Mader | | Elementary Education/K-6 Education | Bachelor of Science-Teaching | Sioux Falls, MN |
| Grace Linder Magnuson | Cum Laude | Elementary Education/K-6 Education | Bachelor of Science-Teaching | Blooming Prairie, MN |
| Grace M Marshall | | Elementary Education/K-6 Education | Bachelor of Science-Teaching | Eden Prairie, MN |
| Madison Nicole Meduna | Summa Cum Laude | Elementary Education with Early Childhood Emphasis | Bachelor of Science-Teaching | Cottage Grove, MN |
| Katelyn Alice Meek | Magna Cum Laude | Elementary Education with Early Childhood Emphasis | Bachelor of Science-Teaching | Byron, MN |
| Rebecca Elizabeth Melin | Cum Laude | Elementary Education/K-6 Education | Bachelor of Science-Teaching | Jordan, MN |
| Alli Michel | | Elementary Education/K-6 Education | Bachelor of Science-Teaching | Rochester, MN |
| Whitney Kaye Moger | | Elementary Education/K-6 Education | Bachelor of Science-Teaching | Rochester, MN |
| Jenna Rose Morgantini | | Elementary Education with Early Childhood Emphasis | Bachelor of Science-Teaching | Chaska, MN |
| Beth Astor Murman | Cum Laude | Physical Education Teaching / Health Promotion: School Health | Bachelor of Science-Teaching | Fort Dodge, IA |
| Ryan E Mutzner | | Physical Education Teaching / Health Promotion: School Health | Bachelor of Science-Teaching | Holmen, WI |
| Grace K Navratil | Magna Cum Laude | Elementary Education/K-6 Education / Mathematics: Secondary Teaching | Bachelor of Science-Teaching | Wyoming, MN |
| Kayla Lynnea Nelson | | Elementary Education/K-6 Education | Bachelor of Science-Teaching | Chatfield, MN |
| Lauren Lee Nerland | Cum Laude | Special Education: Developmental Disabilities | Bachelor of Science-Teaching | Rosemount, MN |
| Jessica Paige Northouse | Magna Cum Laude | Elementary Education/K-6 Education / Special Education: Developmental Disabilities | Bachelor of Science-Teaching | Maplewood, MN |
| Kailee Marie Olerud | Magna Cum Laude | Elementary Education/K-6 Education | Bachelor of Science-Teaching | Spring Grove, MN |
| Megan Renee Olson | Magna Cum Laude | Elementary Education with Early Childhood Emphasis | Bachelor of Science-Teaching | La Crosse, WI |
| Cade Michael Olszewski | Cum Laude | Physical Education Teaching / Health Promotion: School Health | Bachelor of Science-Teaching | Johnson Creek, WI |
| Kassandra Sue Ostby | Magna Cum Laude | Elementary Education/K-6 Education | Bachelor of Science-Teaching | Blaine, MN |
| Shannon Drew Makenlo | | Elementary Education/K-6 Education | Bachelor of Science-Teaching | Hopkins, MN |
| Alissa Marie Peterson | | Early Childhood Education (Birth – Grade 3) | Bachelor of Science-Teaching | Kiester, MN |
| Emily Christine Pipes | | Elementary Education/K-6 Education | Bachelor of Science-Teaching | North Mankato, MN |
| Lezly Ramirez Placencia | Cum Laude | Elementary Education/K-6 Education | Bachelor of Science-Teaching | Winona, MN |
| Ashley Nicole Powell | | Physical Education Teaching / Health Promotion: School Health | Bachelor of Science-Teaching | Onalaska, WI |
| Lillian Price | | Special Education: Developmental Disabilities | Bachelor of Science-Teaching | Randolph, MN |
| Allison Danielle Rasmussen | Summa Cum Laude | Elementary Education with Early Childhood Emphasis | Bachelor of Science-Teaching | Northfield, MN |
| Jennifer Evelyn Remling | | Special Education: Developmental Disabilities | Bachelor of Science-Teaching | Spring Valley, MN |
| Camryn Faith Reuter | Magna Cum Laude | Elementary Education/K-6 Education | Bachelor of Science-Teaching | Rose Creek, MN |
| Kenzie Leigh Riess | Cum Laude | Elementary Education/K-6 Education | Bachelor of Science-Teaching | Rochester, MN |
| Rachael Rose Roberts | Summa Cum Laude | Elementary Education/K-6 Education | Bachelor of Science-Teaching | Janesville, MN |
| Amber Lynn Robinson | | Elementary Education/K-6 Education | Bachelor of Science-Teaching | Lake City, MN |
| Taylor Jean Robinson | | Elementary Education with Early Childhood Emphasis | Bachelor of Science-Teaching | Burnsville, MN |
| Dylan Schiro | | Business Education | Bachelor of Science-Teaching | Wausau, WI |
| Cole Maxwell Schmidt | | Physical Education Teaching | Bachelor of Science-Teaching | Fall Creek, WI |
| Alyssa Kae Severtson | | Elementary Education/K-6 Education | Bachelor of Science-Teaching | Albert Lea, MN |
| Alysa Sue Simerson | Magna Cum Laude | Elementary Education/K-6 Education | Bachelor of Science-Teaching | Austin, MN |
| Madilyn Jennifer Smith | Cum Laude | Elementary Education/K-6 Education | Bachelor of Science-Teaching | Ellsworth, WI |
| Christopher Davonte Smith-Bond-Krowka | | Elementary Education/K-6 Education | Bachelor of Science-Teaching | Saint Paul, MN |
| Theresa Carol Starks | | Academic and Behavioral Strategist | Bachelor of Science-Teaching | Bethany, MN |
| Olivia Anne Thomas | Magna Cum Laude | Elementary Education with Early Childhood Emphasis | Bachelor of Science-Teaching | Hugo, MN |
| Keera Ann Tijerina | | Elementary Education/K-6 Education | Bachelor of Science-Teaching | Rochester, MN |
| Alaina Marie Uecker | Cum Laude | Elementary Education/K-6 Education | Bachelor of Science-Teaching | Cottage Grove, MN |
| Nicole Uecker | Summa Cum Laude | Elementary Education with Early Childhood Emphasis | Bachelor of Science-Teaching | Appleton, WI |
| Larissa Ann Unseth | | Special Education: Developmental Disabilities / Elementary Education with Early Childhood Emphasis | Bachelor of Science-Teaching | Cashton, WI |
| David Matthew Vande Sande | | Physical Education Teaching / Health Promotion: School Health | Bachelor of Science-Teaching | Middleton, WI |
| Adrian Jacob Vela | Magna Cum Laude | Elementary Education/K-6 Education | Bachelor of Science-Teaching | Austin, MN |
| Jordyn Hope Walters | Magna Cum Laude | Elementary Education/K-6 Education | Bachelor of Science-Teaching | Hartford, WI |
| Keya E Welch | Cum Laude | Elementary Education with Early Childhood Emphasis | Bachelor of Science-Teaching | Prairie du Chien, WI |
| Catherine S Winter | | Academic and Behavioral Strategist | Bachelor of Science-Teaching | Rochester, MN |
| Erin Marie Wirtz | Cum Laude | Early Childhood Education (Birth – Grade 3) | Bachelor of Science-Teaching | Fargo, ND |
| Erin Victoria Zbikowski | Cum Laude | Special Education: Developmental Disabilities | Bachelor of Science-Teaching | South Milwaukee, WI |
| Juanita J Zeifert | Cum Laude | Elementary Education/K-6 Education | Bachelor of Science-Teaching | Marinette, WI |
| Jayce Elizabeth Zimpel | Magna Cum Laude | Elementary Education with Early Childhood Emphasis | Bachelor of Science-Teaching | Boscobel, WI |
Master's
| | | | |
| --- | --- | --- | --- |
| Name | Program | Degree | Hometown |
| Tricia Angus | Leadership Education: Sport Management | Master of Science | Ely, MN |
| Rachel Suzanne Bluhm | Counselor Education: School Counseling | Master of Science | Medford, MN |
| Mallorie Rose Briggs | Human Services Professional | Master of Science | Cottage Grove, MN |
| Sara Ann Fister | Clinic Mental Health Counseling | Master of Science | Chatfield, MN |
| Jesse James Gallager | Leadership Education: Sport Management | Master of Science | Wisconsin Rapids, WI |
| Grace Antonia Gauthier | Clinic Mental Health Counseling | Master of Science | Minneapolis, MN |
| Ryan Hollibaugh | Leadership Education: Sport Management | Master of Science | Grinnell , IA |
| Jessica Nicole Jacoby | Counselor Education: School Counseling | Master of Science | Rochester, MN |
| Ellen Jean Knutson | Counselor Education: School Counseling | Master of Science | Janesville, WI |
| Meriel LaForce | Clinic Mental Health Counseling | Master of Science | West Saint Paul, MN |
| Kerri Langen | Counselor Education: School Counseling | Master of Science | Holmen, WI |
| Charles Miller | Counselor Education: School Counseling | Master of Science | Winona, MN |
| Joseph Mueller | Leadership Education: Sport Management | Master of Science | Hutchinson, MN |
| Melissa A. Paetzel | Human Services Professional | Master of Science | Winona, MN |
| Sierra Rose Peters | Clinic Mental Health Counseling | Master of Science | Alexandria, MN |
| Courtney R Retzlaff | Clinic Mental Health Counseling | Master of Science | Randolph, WI |
| Madelynn Jean Revord | Clinic Mental Health Counseling | Master of Science | Middleton, WI |
| LaNita C. Robinson | Leadership Education: Organizational Leadership | Master of Science | Saint Paul, MN |
| Jennifer Marie Rynes | Clinic Mental Health Counseling | Master of Science | Ontario, WI |
| Lizette Sabrina Salazar | Counselor Education: School Counseling | Master of Science | Austin, MN |
| Theresa Marie Sanchez | Clinic Mental Health Counseling | Master of Science | Austin, MN |
| Tristan Schmidtknecht | Counselor Education: School Counseling | Master of Science | Cochrane, WI |
| Jennifer Storlie | Human Services Professional | Master of Science | Mantorville, MN |
| Deziree' Lenora Wiegmann | Clinic Mental Health Counseling | Master of Science | Waterloo, IA |
Doctorate
Name
Program
Degree
Hometown
Donavan Edward Bailey
Education
Doctor of Education
Indianapolis, IN
Dedrick Griffin
Education
Doctor of Education
Oakland, CA
Patrick William Leeport
Education
Doctor of Education
Bemidji, MN
Regina Mustafa
Education
Doctor of Education
Rochester, MN
Alicia Rae Swanson
Education
Doctor of Education
Sabin, MN
Shelley M. Wolfe
Education
Doctor of Education
Rochester, MN
Undergraduate
| | | | | |
| --- | --- | --- | --- | --- |
| Name | Honors | Major | Degree | Hometown |
| Ali Mohamud Abdi | | Political Science | Bachelor of Arts | Rochester, MN |
| Maxwell A Ackman | | Mass Communication: Advertising | Bachelor of Arts | Prescott, WI |
| Erik James Anderson | | I-Design | Bachelor of Arts | Frost, MN |
| James Patrick Armstead | | Individualized Studies | Bachelor of Arts | Rochester, MN |
| Brady A Aufderheide | | Mass Communication: Advertising | Bachelor of Arts | Mound Westonka, MN |
| Kristiana E. Barnholtz | | Mass Communication: Creative Digital Media | Bachelor of Arts | Winona, MN |
| Nelson Ross Baumert | | Individualized Studies | Bachelor of Arts | Savage, MN |
| Steele Beatty | | Individualized Studies | Bachelor of Arts | Pewaukee, WI |
| Mykenna Grace Berkebile | | Psychology | Bachelor of Arts | Rosemount, MN |
| Hannah Rebekah Beumer | | Psychology | Bachelor of Arts | Rosemount, MN |
| Kipp Thomas Bonde | Cum Laude | Mass Communication: Creative Digital Media | Bachelor of Arts | Nerstrand, MN |
| Rachel M Bowers | Magna Cum Laude | Psychology | Bachelor of Arts | Brooklyn Park, MN |
| Abby Lyn Braaten | Cum Laude | Liberal Arts & Sciences | Associate of Arts | Blooming Prairie, MN |
| John Thomas Breske | | Political Science | Bachelor of Arts | Hatley, WI |
| John Thomas Breske | | Public Administration | Bachelor of Science | Hatley, WI |
| Regan Leigh Bushman | Cum Laude | Mass Communication: Public Relations | Bachelor of Arts | Pine Island, MN |
| Laneice Kiara Callier | | Legal Studies | Bachelor of Science | Milwaukee, WI |
| Noelle Capehart | | English: Applied and Professional Writing | Bachelor of Arts | Blaine, MN |
| Zoe C Case | | Sociology: Criminal Justice – Corrections | Bachelor of Science | Woodbury, MN |
| Jessica Ann Chacich | Summa Cum Laude | History | Bachelor of Arts | Prior Lake, MN |
| Ethan R Clark | | Social Science: History Teaching | Bachelor of Science-Teaching | Goodhue, MN |
| Emma Louise Cory | | Music Performance | Bachelor of Music | Red Wing, MN |
| Emma Louise Cory | | Music Teaching: Vocal | Bachelor of Science-Teaching | Red Wing, MN |
| Cassidy Ann Daniel | | Legal Studies | Bachelor of Science | Atlanta, GA |
| Breanna Myya Davidson-Ho | Summa Cum Laude | Political Science / Mass Communication: Journalism | Bachelor of Arts | Ajax, Canada |
| DeAngelo Antonio DeAntoni | | Political Science / Spanish | Bachelor of Arts | Annandale, MN |
| Christianne Danielle Del Castillo | | Psychology | Bachelor of Arts | Andover, MN |
| Emily Lynn DeVivo | | Communication Studies: Applied Communication | Bachelor of Arts | Plainfield, IL |
| Jessica Ann Dolan | Summa Cum Laude | Psychology | Bachelor of Arts | Avon, MN |
| Rachel Rae Drenckhahn | Summa Cum Laude | English: Writing | Bachelor of Arts | Elko New Market, MN |
| Joseph Thomas Eichele | Summa Cum Laude | Film Studies / Mass Communication: Creative Digital Media | Bachelor of Arts | Blaine, MN |
| Jesse Bear Erickson | | Liberal Arts & Sciences | Associate of Arts | Winona, MN |
| Jesse Bear Erickson | | English: Writing | Bachelor of Arts | Winona, MN |
| Makenzie Jo Erickson | | Individualized Studies | Bachelor of Arts | Cottage Grove, MN |
| Taylor Delphine Ferrazzo | Summa Cum Laude | Psychology | Bachelor of Arts | Lakeville, MN |
| Amy Ann Fish | | Individualized Studies | Bachelor of Arts | Winona, MN |
| Sarah J Fortuna | Magna Cum Laude | Individualized Studies | Bachelor of Arts | Itasca, IL |
| Rylee Christine Franko | | Legal Studies | Bachelor of Science | Dodge Center, MN |
| Nicole Janine Friedl | | Psychology | Bachelor of Arts | Waterford, WI |
| Tyson David Gates | | Mass Communication: Public Relations | Bachelor of Arts | Holmen, WI |
| Alexandra Elisabeth Geiger | | Psychology | Bachelor of Arts | Wausau, WI |
| Lauren Elizabeth Gerke | | Psychology | Bachelor of Arts | La Crosse, WI |
| Erin Anne Gilbert | | Psychology | Bachelor of Arts | Saint Michael-Albertville, MN |
| Nicolas David Glidden | | History | Bachelor of Arts | Saint Peter, MN |
| Ian Finn Goerdt | | Individualized Studies | Bachelor of Arts | Duluth, MN |
| Elise M. Gort | Summa Cum Laude | Spanish | Bachelor of Arts | Apple Valley, MN |
| Anna Christine Gosling | | Communication Studies: Leadership and Advocacy | Bachelor of Arts | Appleton, WI |
| Katherine Grams | | Psychology / Sociology: Criminal Justice – Corrections | Bachelor of Arts | Forest Lake, MN |
| Hana Grobel | | Sociology: Criminal Justice – Corrections | Bachelor of Science | New Prague, MN |
| Madison Marie Grove | Magna Cum Laude | Communication Arts & Literature Teaching | Bachelor of Science-Teaching | Gaylord, MN |
| Cheyenne Marie Halberg | | Communication Arts & Literature Teaching | Bachelor of Science-Teaching | Saint Cloud, MN |
| Emily Grace Hanamann | Magna Cum Laude | Social Science: History Teaching | Bachelor of Science-Teaching | Green Bay, WI |
| Andrea Jane Hart | Summa Cum Laude | Psychology | Bachelor of Arts | Rochester, MN |
| Gabriel Nicholas Hathaway | Magna Cum Laude | English: Writing | Bachelor of Arts | Menomonie, WI |
| Carolyn Kay Hauschild | Summa Cum Laude | Mass Communication: Advertising | Bachelor of Arts | Hayfield, MN |
| Macey Jae Heath | | Mass Communication: Public Relations | Bachelor of Arts | La Crosse, WI |
| Mara Elizabeth Hecksel | | Psychology | Bachelor of Arts | Mayer, MN |
| Jessica Hegele | | Mass Communication: Creative Digital Media | Bachelor of Arts | Shoreview, MN |
| Kaley Hope Hegna | | Music (Music Business) | Bachelor of Science | Buffalo, MN |
| Alia Npaujkub Her | | Liberal Arts & Sciences | Associate of Arts | Rochester, MN |
| Van Owen Herman | | English: Applied and Professional Writing | Bachelor of Arts | New Hope, MN |
| Kylie Ann Herrmann | Magna Cum Laude | Psychology | Bachelor of Arts | Cologne, MN |
| Grant Randall Hertle | | Social Science: History Teaching | Bachelor of Science-Teaching | Savage, MN |
| Ashley M Hewitt | Summa Cum Laude | Communication Studies: Applied Communication | Bachelor of Arts | Cottage Grove, MN |
| Magan Hinderaker | | Mass Communication: Creative Digital Media | Bachelor of Arts | Hastings, MN |
| Zachary A Holmes | | Individualized Studies | Bachelor of Arts | Burnsville, MN |
| Caitlyn Horman | Cum Laude | Mass Communication: Advertising | Bachelor of Arts | Oak Creek, WI |
| Guifeng Huang | | Mass Communication: Creative Digital Media | Bachelor of Arts | Rochester, MN |
| Katharine Anne Johnson | | Communication Studies: Leadership and Advocacy | Bachelor of Arts | Caledonia, MN |
| Kindra Jean Johnson | | Psychology | Bachelor of Arts | Holmen, WI |
| Mercedes Anna Johnson | | Mass Communication: Advertising | Bachelor of Arts | Minneapolis, MN |
| Paige Riley Johnson | | Psychology | Bachelor of Arts | East Bethel, MN |
| Saige Lyn Johnson | | Liberal Arts & Sciences | Associate of Arts | Mosinee, WI |
| Stone James Johnson | | Liberal Arts & Sciences | Associate of Arts | Neillsville, WI |
| Ajay Daniel Jorgenson | Magna Cum Laude | Art: Studio Art | Bachelor of Arts | Harmony, MN |
| Jasmine Aicitel Juarez-Flores | | Psychology | Bachelor of Arts | Saint Paul, MN |
| Hannah Joy Keith | | Art Teaching | Bachelor of Science-Teaching | Norwalk, WI |
| Nicole Katherine Kelley | | Communication Studies: Organizational Communication | Bachelor of Arts | Prior lake, MN |
| Nicholas Evan Kendall | | Theatre Arts | Bachelor of Arts | Minneapolis, MN |
| Caitlin Kelly Kerschner | | Political Science / Public Administration | Bachelor of Arts | Woodbury, MN |
| Otto Joseph Klaverkamp | | History | Bachelor of Arts | Clearwater, MN |
| Otto Joseph Klaverkamp | | Social Science: History Teaching | Bachelor of Science-Teaching | Clearwater, MN |
| Gabriella Ann Klema | Summa Cum Laude | I-Design | Bachelor of Arts | Rochester, MN |
| Allison Ann Kleman | Summa Cum Laude | Spanish Teaching | Bachelor of Science-Teaching | Stevens Point, WI |
| William Michael Knatz | | Psychology | Bachelor of Arts | Waunakee, WI |
| Trevor Lawerence Koch | | Liberal Arts & Sciences | Associate of Arts | Burlington, WI |
| Karly May Kowalsky | Cum Laude | Individualized Studies | Bachelor of Arts | Becker, MN |
| Jessica A Kramer | | Individualized Studies | Bachelor of Arts | La Crosse, WI |
| Noah Daniel Kuball | | Mass Communication: Creative Digital Media / Film Studies | Bachelor of Arts | Rochester, MN |
| Madelyn Anne Kuck | | Sociology | Bachelor of Arts | Owatonna, MN |
| Elizabeth Gretchen Kunkel-Erickson | Magna Cum Laude | Spanish | Bachelor of Arts | Albert Lea, MN |
| Kailee Labs | | Individualized Studies | Bachelor of Arts | Mankato, MN |
| Maggie Grace Laffin | | Legal Studies | Bachelor of Science | Wausau, WI |
| Emily Ellen Lagerman | | Individualized Studies | Bachelor of Arts | De Soto, WI |
| Rebecca Ann Larson | | Psychology | Bachelor of Arts | Maplewood, MN |
| Mariah Lee Latuff | Cum Laude | Sociology: Criminal Justice – Law Enforcement | Bachelor of Science | Hastings, MN |
| Madilyn Malytong Lavan | Cum Laude | Legal Studies / Sociology | Bachelor of Science | Rosemount, MN |
| Alexis S Lea | | Psychology | Bachelor of Arts | Lanesboro, MN |
| Jayda Rose Lenz | | Psychology | Bachelor of Arts | Waconia, MN |
| Kyra Ann Lepsch | | Mass Communication: Creative Digital Media | Bachelor of Arts | Winona, MN |
| Kiana Min-hee Lightfield | | Communication Studies: Applied Communication | Bachelor of Arts | Menomonie, WI |
| Hailey Lind | Summa Cum Laude | Psychology | Bachelor of Arts | Litchfield, MN |
| Cheyanne Jean Luckhardt | | Psychology | Bachelor of Arts | Norwood Young America, MN |
| Zachary Michael Luedtke | | Psychology | Bachelor of Arts | Cottage Grove, MN |
| Eliza Angeline Lynch | Summa Cum Laude | Communication Arts & Literature Teaching | Bachelor of Science-Teaching | Lonsdale, MN |
| Abdirahman Abdullahi Mahamood | | Mass Communication: Public Relations | Bachelor of Arts | Rochester, MN |
| Lauren JENNIFER Mahnke | Cum Laude | Art Teaching | Bachelor of Science-Teaching | Rogers, MN |
| Darius Miguel Manuel | | Sociology: Criminal Justice – Corrections | Bachelor of Science | Des Moines, IA |
| Jordan Daniel Martinek | Summa Cum Laude | Political Science | Bachelor of Arts | Blaine, MN |
| Devyn Ann Martinez | | Individualized Studies | Bachelor of Arts | Holmen, WI |
| Peyton Elizabeth Matthys | Summa Cum Laude | Psychology | Bachelor of Arts | Cottonwood, MN |
| Charley James McClay | | Mass Communication: Advertising | Bachelor of Arts | Buffalo, MN |
| Caitlin McVay | Magna Cum Laude | Legal Studies | Bachelor of Science | Maple Grove, MN |
| Angela Kay Meilander | | Individualized Studies | Bachelor of Arts | Rochester, MN |
| Alexa Marie Mertens | | Individualized Studies | Bachelor of Arts | Prior Lake, MN |
| Allison Del Miller | Summa Cum Laude | Mass Communication: Public Relations | Bachelor of Arts | Mosinee, WI |
| McKenna Marie Miller | Magna Cum Laude | Psychology | Bachelor of Arts | Eagan, MN |
| Mae Johannah Mironer | | Theatre Arts | Bachelor of Arts | Edina, MN |
| Grant Vincent Montgomery | Cum Laude | Legal Studies | Bachelor of Science | Corcoran, MN |
| Julia Catherine Moran | | Mass Communication: Creative Digital Media | Bachelor of Arts | Edina, MN |
| Maiah Lan Nguyen Motley | | Communication Arts & Literature Teaching | Bachelor of Science-Teaching | Rochester, MN |
| Benjamin Ray Mueller | | Social Science: History Teaching | Bachelor of Science-Teaching | Alma, WI |
| Aimee Fatima Murphy | | Legal Studies | Bachelor of Science | Spring Grove, MN |
| Hannah Rae-Marie Murphy | | Psychology | Bachelor of Arts | Onalaska, WI |
| Karli Ann Myers | | Sociology: Criminal Justice – Corrections | Bachelor of Science | Prairie du Chien, WI |
| Kayla Sue Nachbar | Summa Cum Laude | Spanish | Bachelor of Arts | Sauk Rapids – Rice, MN |
| Jordan Leigh Nelson | | Sociology: Criminal Justice – Corrections | Bachelor of Science | Vadnais Heights, MN |
| Noah Nelson | | Theatre Arts | Bachelor of Arts | Columbia Heights, MN |
| Preston Rilley Nelson | | Individualized Studies | Bachelor of Arts | Kimberly, WI |
| Cindy Nguyen | | Communication Studies: Applied Communication | Bachelor of Arts | Rochester, MN |
| Jessica June Norblom | Cum Laude | Mass Communication: Creative Digital Media | Bachelor of Arts | Mendota Heights, MN |
| Tanner Olson | | Individualized Studies | Bachelor of Arts | Stewartville, MN |
| Trevor Warren Oppedal | | Psychology | Bachelor of Arts | Blue Earth, MN |
| Olivia B Osborne | | Legal Studies | Bachelor of Science | Milwaukee, WI |
| Kimberly Sue Osmundson | | Individualized Studies | Bachelor of Arts | Saint Charles, MN |
| Marcus Anthony Paoli | | Mass Communication: Public Relations | Bachelor of Arts | Northfield, MN |
| Megan Parks | Cum Laude | Liberal Arts & Sciences | Associate of Arts | Stewartville, MN |
| Kaylee Kristen Patnode | Summa Cum Laude | Psychology | Bachelor of Arts | South Milwaukee, WI |
| Bethany Joy Patterson | | Psychology / Sociology: Criminal Justice – Corrections | Bachelor of Arts | Apple Valley, MN |
| Vaneesa Lee Pavek | | Psychology | Bachelor of Arts | Montgomery, MN |
| Matthew Nathan Pearson | Summa Cum Laude | English: Writing | Bachelor of Arts | Byron, MN |
| Tyler Jonathan Peil | | Individualized Studies | Bachelor of Arts | Sheboygan Falls, WI |
| Elizabeth Marie Michiko Perry | | Mass Communication: Public Relations | Bachelor of Arts | Cincinnati, OH |
| Kayla Petersen | Cum Laude | Global Studies | Bachelor of Arts | Minneapolis, MN |
| Amanda Grace Petro | Magna Cum Laude | Psychology | Bachelor of Arts | Minneapolis, MN |
| Zachary Isaiah Polzin | | Psychology | Bachelor of Arts | Nicollet, MN |
| Kelly Lorraine Pomeroy | Cum Laude | Sociology: Criminal Justice – Corrections | Bachelor of Science | Winona, MN |
| Justin William Precour | | Individualized Studies | Bachelor of Arts | Huntley, IL |
| Taylor Anne Purington | Summa Cum Laude | Social Science: History Teaching | Bachelor of Science-Teaching | Eagan, MN |
| Alexis Rose Reps | | Psychology | Bachelor of Arts | Lewiston, MN |
| Rosalie Grace Richardson | Cum Laude | English: Literature and Language | Bachelor of Arts | Mahtowa, MN |
| Ella Roberts | | Mass Communication: Advertising | Bachelor of Arts | Highland Park, IL |
| Matthew Michael Robinson | | Film Studies | Bachelor of Arts | Prior Lake, MN |
| Katherine Rodmyre | | English: Literature and Language / Sociology: Criminal Justice – Corrections | Bachelor of Science | Blaine, MN |
| Marshal Henry Michael Rohe | | Film Studies | Bachelor of Arts | Rochester, MN |
| Paige Alissa Romanowski | Magna Cum Laude | Mass Communication: Public Relations | Bachelor of Arts | Elk Mound, WI |
| Meran Isabelle Rose | | Psychology | Bachelor of Arts | Hastings, MN |
| Rylee Roshon | Magna Cum Laude | Individualized Studies | Bachelor of Arts | Byron, MN |
| Lilly Patricia Rowland | | Mass Communication: Creative Digital Media | Bachelor of Arts | Rochester, MN |
| Muriel Ruppert | | Psychology | Bachelor of Arts | Minneapolis, MN |
| Brenna Marie Ryan | | Sociology: Criminal Justice – Corrections | Bachelor of Science | Rochester, MN |
| Sonja Marie Sacquitne | Magna Cum Laude | Psychology | Bachelor of Arts | Decorah, IA |
| Mario Thomas Savard | | Communication Studies: Organizational Communication | Bachelor of Arts | Cottage Grove, MN |
| Amanda Joy Schabacker | Magna Cum Laude | Sociology | Bachelor of Arts | Fountain City, WI |
| Cooper Rielly Scheldroup | Cum Laude | Psychology | Bachelor of Arts | Milwaukee, WI |
| Emma Mae Schmillen | | Communication Studies: Applied Communication | Bachelor of Arts | Cottage Grove, MN |
| Madeline Diane Schonitzer | | English: Writing | Bachelor of Arts | Beaver Dam, WI |
| Veronica Marie Schroeder | Summa Cum Laude | Sociology: Criminal Justice – Corrections | Bachelor of Science | Onalaska, WI |
| Annika E Schultz | Summa Cum Laude | Legal Studies / Spanish | Bachelor of Science | Kimberly, WI |
| Ashton John Schultz | | Communication Studies: Leadership and Advocacy | Bachelor of Arts | Oakdale, MN |
| Brynne C Schultz | | English: Literature and Language | Bachelor of Arts | Houston, MN |
| Eric Paul Schulz | | Social Science: History Teaching | Bachelor of Science-Teaching | Milwaukee, WI |
| Carly Anne Sedacca | | Communication Studies: Leadership and Advocacy | Bachelor of Arts | Saint Paul, MN |
| Alana Marie Shields | Cum Laude | Music (Liberal Arts) | Bachelor of Arts | Sioux Falls, SD |
| Dmitri Shpak | | Individualized Studies | Bachelor of Arts | Maple Grove, MN |
| Bryn Sikora | Cum Laude | Art Teaching | Bachelor of Science-Teaching | Kimberly, WI |
| Lucy Jo Soo Ah Sletta | Cum Laude | Individualized Studies | Bachelor of Arts | New Ulm, MN |
| Calista Marie Smude | | English: Literature and Language | Bachelor of Arts | Brainerd, MN |
| Emily A Sorensen | | Mass Communication: Public Relations | Bachelor of Arts | Woodbury, MN |
| Alysa Marie Steinkopf | | Communication Studies: Organizational Communication | Bachelor of Arts | Lodi, WI |
| Brianna Marie Stenvick | | Individualized Studies | Bachelor of Arts | Monticello, MN |
| Esther Elizabeth Stoy | Summa Cum Laude | I-Design / Art: Studio Art | Bachelor of Arts | Blaine, MN |
| Tova R Strange | Magna Cum Laude | Psychology | Bachelor of Arts | Winona, MN |
| Brianna Marie Strohbehn | Summa Cum Laude | Applied and Professional Writing / English: Writing | Bachelor of Arts | Traer, IA |
| Megan Surface | | Art Teaching | Bachelor of Science-Teaching | Rockford, IL |
| Page Raina Sutton | | Applied and Professional Writing / English: Writing | Bachelor of Arts | Waseca, MN |
| Jordan Lindsay Tapp | | Sociology | Bachelor of Arts | Lewiston, MN |
| William Thomas Tauer | | Psychology | Bachelor of Arts | Cleveland, MN |
| Nicholas David Tentis | Magna Cum Laude | Communication Arts & Literature Teaching | Bachelor of Science-Teaching | Rosemount, MN |
| Briel Doris Thelen | | Political Science | Bachelor of Arts | Puraquequara, Brazil |
| April Kate Thompson | | English: Applied and Professional Writing | Bachelor of Arts | Denton, NC |
| Jade Marie Tomashek | | Sociology: Criminal Justice – Law Enforcement / Psychology | Bachelor of Science | Shoreview, MN |
| Allyssa Christina Marie Torelli | | Individualized Studies | Bachelor of Arts | Fullerton, CA |
| Myles Alexander Tramill | | Legal Studies | Bachelor of Science | Round Lake, IL |
| Jacklyn Truc Ly Tran | | Sociology | Bachelor of Arts | Apple Valley, MN |
| Kylie Leanne Tschida | | I-Design | Bachelor of Arts | Woodbury, MN |
| Tilly Rose | Cum Laude | Liberal Arts & Sciences | Associate of Arts | Minneapolis, MN |
| Chyenne Marie Tyler | | Political Science | Bachelor of Arts | Dover, MN |
| Emily Anne Venne | Magna Cum Laude | English: Literature and Language / English: Writing | Bachelor of Arts | Wisconsin Dells, WI |
| Chase Dale Voight | | Psychology | Bachelor of Arts | Pittsville, WI |
| Hillary Lynn Vold | | Individualized Studies | Bachelor of Arts | Independence, WI |
| Madison Janice Volkmann | | Mass Communication: Public Relations | Bachelor of Arts | Sauk Centre, MN |
| Tyson Jeffrey Wacker | | Sociology: Criminal Justice – Law Enforcement | Bachelor of Science | Pipestone, MN |
| Justin G Wagener | | Legal Studies | Bachelor of Science | Waconia, MN |
| Grace Ann Wagner | | Mass Communication: Public Relations | Bachelor of Arts | Janesville, MN |
| Ryan Dale Walters | | Mass Communication: Public Relations | Bachelor of Arts | Austin, MN |
| Caleb Joseph Weaver | | Mass Communication: Advertising | Bachelor of Arts | Mora, MN |
| Dane Curtis Weiland | | Sociology: Criminal Justice – Law Enforcement | Bachelor of Science | Chippewa Falls, WI |
| Duncan Samuel Wellcome | | Mass Communication: Creative Digital Media | Bachelor of Arts | Robbinsdale, MN |
| Sarah Wells | | Legal Studies | Bachelor of Science | Holmen, WI |
| Virginia Anne Weyer | | Communication Studies: Applied Communication / English: Literature and Language | Bachelor of Arts | Saint Paul, MN |
| Benjamin Vernon Witham | | Sociology: Criminal Justice – Law Enforcement | Bachelor of Science | Albert Lea, MN |
| Mykayla Marie Wollin | | Spanish | Bachelor of Arts | Melrose, WI |
| Mykayla Marie Wollin | | Social Science: History Teaching | Bachelor of Science-Teaching | Melrose, WI |
| Robin B Woodhouse | | Psychology | Bachelor of Arts | Austin, MN |
| Sara Catherine Yager | | Psychology | Bachelor of Arts | Wabasha, MN |
| Kotoko Yui | Cum Laude | Psychology | Bachelor of Arts | Fujisawa-shi, Japan |
| Kaylee Jo Zirbes | | Music Teaching: Instrumental | Bachelor of Science-Teaching | Kasson, MN |
Master's
| | | | |
| --- | --- | --- | --- |
| Name | Program | Degree | Hometown |
| Jena Naomi Archer | English: Literature and Language | Master of Arts | Pine Island, MN |
| Renant Hubbard | English: Teaching English to Speakers of Other Languages | Master of Arts | Austin, MN |
| Maruay Tiemthong | English: Teaching English to Speakers of Other Languages | Master of Arts | Lopburi, Thailand |
Undergraduate
| | | | | |
| --- | --- | --- | --- | --- |
| Name | Honors | Major | Degree | Hometown |
| Alejandra Acosta | Summa Cum Laude | Nursing: RN to BS Completion | Bachelor of Science | Rochester, MN |
| Adenike Rebeccah Ademola | | Social Work | Bachelor of Social Work | Mounds View, MN |
| Zoe R Aeilts | | Nursing | Bachelor of Science | Rosemount, MN |
| Nora Talib Ali Ahmed | | Social Work | Bachelor of Social Work | Rochester, MN |
| Marzouk B Alassani | | Nursing: RN to BS Completion | Bachelor of Science | Plymouth, MN |
| Madeline T Albers | Cum Laude | Nursing | Bachelor of Science | Deforest, WI |
| Morgan Jillene Albers | Magna Cum Laude | Nursing | Bachelor of Science | Faribault, MN |
| Jasmine Lynn Albrecht | | Nursing | Bachelor of Science | Winona, MN |
| Cassidy Mackenzie Aleman | | Social Work | Bachelor of Social Work | Rochester, MN |
| Nicole Marie Alexander | Cum Laude | Healthcare Leadership & Administration: Leadership | Bachelor of Applied Science | Litchfield, MN |
| Christianna L Anderson | | Social Work | Bachelor of Social Work | Plainview, MN |
| Marisa Grace Anderson | Cum Laude | Nursing | Bachelor of Science | Milwaukee, WI |
| Brenna Christine Andres | Cum Laude | Recreation, Tourism and Therapeutic Recreation: Recreation and Tourism | Bachelor of Science | Pierz, MN |
| Amina Issa Araye | Magna Cum Laude | Social Work | Bachelor of Social Work | Rochester, MN |
| Osayaba Eddie Ayinla | | Social Work | Bachelor of Social Work | Rochester, MN |
| Wendy Ann Badenhorst | Summa Cum Laude | Nursing: RN to BS Completion | Bachelor of Science | Lanesboro, MN |
| Elijah Christian Baker | | Public Health: Health Administration | Bachelor of Science | Blooming Prairie, MN |
| Katelyn Barthel | | Nursing: RN to BS Completion | Bachelor of Science | Burtrum, MN |
| Kasha Elaine Bates | Cum Laude | Nursing | Bachelor of Science | Green Isle, MN |
| Lauryn Kathryn Baumer | Summa Cum Laude | Nursing | Bachelor of Science | Savage, MN |
| Cheyanne Jewell Benson | Cum Laude | Nursing | Bachelor of Science | Annandale, MN |
| Efrem T Berhe | | Nursing: RN to BS Completion | Bachelor of Science | Austin, MN |
| Kennedy Jane Bican | Magna Cum Laude | Exercise & Rehabilitative Sciences: Movement Science | Bachelor of Science | Monticello, MN |
| Callie Jo Bonk | Magna Cum Laude | Exercise & Rehabilitative Sciences: Clinical Exercise Science | Bachelor of Science | Victoria, MN |
| Kate Elizabeth Booth | Magna Cum Laude | Nursing | Bachelor of Science | Lakeville, MN |
| Anna Claire Bordewick | Magna Cum Laude | Nursing | Bachelor of Science | Albert Lea, MN |
| Madison Rae Bowden | Summa Cum Laude | Nursing | Bachelor of Science | Rochester, MN |
| Kali Marie Bowe | Cum Laude | Social Work | Bachelor of Social Work | Rochester, MN |
| Madison Suzanne Bronson | Magna Cum Laude | Nursing | Bachelor of Science | Williams Bay, WI |
| Kimberly Angelina Brunswick | | Healthcare Leadership & Administration: Leadership | Bachelor of Applied Science | Iron River, MI |
| Suzanna Y Bryant | | Exercise & Rehabilitative Sciences: Clinical Exercise Science | Bachelor of Science | Zumbrota, MN |
| Hailey Mae Buelow | Summa Cum Laude | Health Promotion: School Health / Spanish | Bachelor of Science-Teaching | Stillwater, MN |
| William David Buffington | Cum Laude | Nursing | Bachelor of Science | Farmington, MN |
| Faith Renee Busse | Summa Cum Laude | Nursing | Bachelor of Science | Rosemount, MN |
| Miah Lynn Busse | Summa Cum Laude | Exercise & Rehabilitative Sciences: Movement Science | Bachelor of Science | Winthrop, MN |
| Miranda Marie Buth | Magna Cum Laude | Nursing | Bachelor of Science | Mukwonago, WI |
| Kaitlin Marli Campbell | Magna Cum Laude | Nursing | Bachelor of Science | Hutchinson, MN |
| Sara Jean Cartney | | Nursing: RN to BS Completion | Bachelor of Science | Rochester, MN |
| Elizabeth Magil Caucutt | Summa Cum Laude | Social Work | Bachelor of Social Work | La Crosse, WI |
| Kayla Marie Chavez | | Social Work | Bachelor of Social Work | Wabasha, MN |
| Madeline Elizabeth Congdon | Magna Cum Laude | Nursing | Bachelor of Science | Hudson, WI |
| Demetrius Alan Covington | | Exercise & Rehabilitative Sciences: Exercise Science | Bachelor of Science | Eagan, MN |
| Isaac Edward Davidson | | Recreation, Tourism and Therapeutic Recreation: Recreation and Tourism | Bachelor of Science | Saint Charles, MN |
| Ashley Jo Davis | Magna Cum Laude | Social Work | Bachelor of Social Work | Ossian, IA |
| Tori Alexandra Davis | Magna Cum Laude | Social Work | Bachelor of Social Work | Rochester, MN |
| Carrie Ann Deetz | | Healthcare Leadership & Administration: Leadership | Bachelor of Applied Science | Rochester, MN |
| Bailey Rose Deininger | Cum Laude | Exercise & Rehabilitative Sciences: Clinical Exercise Science | Bachelor of Science | Hartland, WI |
| Nicholas D Denault | Summa Cum Laude | Nursing | Bachelor of Science | Lino Lakes, MN |
| Andrea DeWall | Magna Cum Laude | Healthcare Leadership & Administration: Leadership | Bachelor of Applied Science | Caledonia, MN |
| Jenna Nichole Diehl | Summa Cum Laude | Recreation, Tourism and Therapeutic Recreation: Recreation and Tourism | Bachelor of Science | Freeport, IL |
| Kieran Victoria Heuck Diekroeger | Magna Cum Laude | Public Health: Health Administration | Bachelor of Science | Stevens Point, WI |
| Haily Roselyn Doherty | Magna Cum Laude | Exercise & Rehabilitative Sciences: Movement Science | Bachelor of Science | Cudahy, WI |
| Kaleigh Danielle Doroba | Magna Cum Laude | Nursing | Bachelor of Science | Crystal Lake, IL |
| Samuel Steven Dovorany | | Exercise & Rehabilitative Sciences: Clinical Exercise Science | Bachelor of Science | Buffalo, MN |
| Maura McCaffery Driscoll | Summa Cum Laude | Nursing | Bachelor of Science | Milwaukee, WI |
| Hannah Rose Edberg | Summa Cum Laude | Nursing | Bachelor of Science | Shakopee, MN |
| Laura Eichmann | | Social Work | Bachelor of Social Work | La Crescent, MN |
| Acts Moraa Elijah | | Social Work | Bachelor of Social Work | Rochester, MN |
| Victoria Joy Ellingson | | Exercise & Rehabilitative Sciences: Movement Science | Bachelor of Science | Apple Valley, MN |
| Ashley Nicole Elsenpeter | Cum Laude | Social Work | Bachelor of Social Work | Jordan, MN |
| Anika Leigh Erickson | | Social Work | Bachelor of Social Work | Rochester, MN |
| Ilobekemen W Eromosele | | Public Health: Health Administration | Bachelor of Science | Woodbury, MN |
| Kali Hashi Farah | | Nursing: RN to BS Completion | Bachelor of Science | Rochester, MN |
| Cassabella Katrina Farrier | Cum Laude | Nursing | Bachelor of Science | Forest Lake, MN |
| Katrina Jean Fernandez | | Healthcare Leadership & Administration: Leadership | Bachelor of Applied Science | Andover, MN |
| Sophia Nicole Ferrian | | Exercise & Rehabilitative Sciences: Clinical Exercise Science | Bachelor of Science | Eagan, MN |
| Grace Lillian Friederichs | | Nursing | Bachelor of Science | Chatfield, MN |
| Stephanie Jo Frier | Cum Laude | Nursing | Bachelor of Science | Chaska, MN |
| Caleigh Kaye Fritz | Cum Laude | Exercise & Rehabilitative Sciences: Exercise Science | Bachelor of Science | Superior, WI |
| Andrea Marie Fromelt | Summa Cum Laude | Nursing | Bachelor of Science | Saint Cloud, MN |
| Julie Elizabeth Godar | Cum Laude | Nursing | Bachelor of Science | Forest Lake, MN |
| Hannah Marie Gordon | Magna Cum Laude | Nursing | Bachelor of Science | Lakeville, MN |
| Melissa Hacker | Cum Laude | Nursing | Bachelor of Science | Rogers, MN |
| Rylie Elizabeth Hagberg | | Social Work | Bachelor of Social Work | Maplewood, MN |
| Yeno Mercy Hakim | | Nursing | Bachelor of Science | Eagan, MN |
| Auna Claire Hallquist | | Exercise & Rehabilitative Sciences: Clinical Exercise Science | Bachelor of Science | Norwood Young America, MN |
| Christina Leone Harrison | | Public Health: Health Administration | Bachelor of Science | Lakeville, MN |
| Dalton Daniel Head | | Exercise & Rehabilitative Sciences: Movement Science | Bachelor of Science | Mantorville, MN |
| Riley Kenneth Heilskov | Summa Cum Laude | Recreation, Tourism and Therapeutic Recreation: Recreation and Tourism | Bachelor of Science | Ankeny, IA |
| Kayla Rose Henning | Magna Cum Laude | Social Work | Bachelor of Social Work | Markesan, WI |
| Taya Lynn Herrera | Cum Laude | Nursing | Bachelor of Science | Waukesha, WI |
| Christopher David Herron | | Social Work | Bachelor of Social Work | Winona, MN |
| Lucas Hess | | Public Health: Epidemiology / Public Health: Community Health | Bachelor of Science | Oregon, WI |
| Austin James Hicks | | Exercise & Rehabilitative Sciences: Exercise Science | Bachelor of Science | Winona, MN |
| Elle Katherine Hoffman | Summa Cum Laude | Nursing | Bachelor of Science | Lino Lakes, MN |
| Rachel Elizabeth Hoffman | | Exercise & Rehabilitative Sciences: Exercise Science | Bachelor of Science | Green Bay, WI |
| Abigail Golda Hofschulte | | Exercise & Rehabilitative Sciences: Exercise Science | Bachelor of Science | Plainview, MN |
| Robyn Kay Holm | | Healthcare Leadership & Administration: Leadership | Bachelor of Applied Science | Rochester, MN |
| Adrianna Lee Hongerholt | | Nursing: RN to BS Completion | Bachelor of Science | Houston, MN |
| Afton Marie Hoyt | Magna Cum Laude | Nursing | Bachelor of Science | Forest Lake, MN |
| Anna Jensine Hustedde | Summa Cum Laude | Nursing | Bachelor of Science | Farmington, MN |
| Rose Virginia Ion | Cum Laude | Nursing | Bachelor of Science | Superior, WI |
| Benjamin Ivanecky | | Exercise & Rehabilitative Sciences: Clinical Exercise Science | Bachelor of Science | Farmington, MN |
| Vlajko Ivkovic | Cum Laude | Nursing: RN to BS Completion | Bachelor of Science | Rochester, MN |
| Lauren Diane Jackson | Cum Laude | Recreation, Tourism and Therapeutic Recreation: Therapeutic Recreation | Bachelor of Science | Hastings, MN |
| Toni Michelle Jahnz | | Social Work | Bachelor of Social Work | Randolph, MN |
| Ellyn Elizabeth Jaycox | Summa Cum Laude | Nursing | Bachelor of Science | Plymouth, MN |
| Kelsey Marie Jindra | Magna Cum Laude | Nursing | Bachelor of Science | Anoka, MN |
| Mikenna Jae Joerger | | Recreation, Tourism and Therapeutic Recreation: Therapeutic Recreation | Bachelor of Science | Readlyn, IA |
| Alyssa Kay Johnson | Summa Cum Laude | Nursing | Bachelor of Science | Spring Grove, MN |
| Carson Taylor Johnson | | Exercise & Rehabilitative Sciences: Exercise Science | Bachelor of Science | Winona, MN |
| Kennedy Kay Johnson | Magna Cum Laude | Nursing | Bachelor of Science | Princeton, MN |
| Paige Riley Johnson | | Nursing | Bachelor of Science | East Bethel, MN |
| Anthony M Jorgenson | | Nursing | Bachelor of Science | Hugo, MN |
| Brandon Allen Joyal | | Healthcare Leadership & Administration: Leadership | Bachelor of Applied Science | Hancock, MI |
| Gracie Sue Sadie Marie Kafar | | Social Work | Bachelor of Social Work | Boscobel, WI |
| Janjay Precious Karmenjay | | Public Health: Epidemiology | Bachelor of Science | Monrovia, Liberia |
| Grace Emma Kelley | Summa Cum Laude | Nursing | Bachelor of Science | Medford, WI |
| Rachel Leigh Kelly | Summa Cum Laude | Nursing | Bachelor of Science | Hopkins, MN |
| Rubaida Khan | Summa Cum Laude | Nursing | Bachelor of Science | Winona, MN |
| Courtney Catherine Kind | Summa Cum Laude | Nursing | Bachelor of Science | Erin, WI |
| Andria Lea King | | Social Work | Bachelor of Social Work | Rochester, MN |
| Tyler John Kinney | | Social Work | Bachelor of Social Work | Hudson, WI |
| Margaret J Klahr | | Exercise & Rehabilitative Sciences: Clinical Exercise Science | Bachelor of Science | Verona, WI |
| Sydney Ann Klingel | | Exercise & Rehabilitative Sciences: Clinical Exercise Science | Bachelor of Science | Madison Lake, MN |
| Hannah M Koonce | Cum Laude | Nursing | Bachelor of Science | Oakdale, MN |
| Abbie Lucille Kotek | | Exercise & Rehabilitative Sciences: Exercise Science | Bachelor of Science | Shakopee, MN |
| Gavin Jon Kranz | Cum Laude | Nursing | Bachelor of Science | Gaylord, MN |
| Sarah Elizabeth Kring | Magna Cum Laude | Nursing | Bachelor of Science | Elk River, MN |
| Greta Lindberg Kueng | Summa Cum Laude | Nursing | Bachelor of Science | Champlin, MN |
| Vanessa Mariluz Kuenzi | Summa Cum Laude | Nursing | Bachelor of Science | Larsen, WI |
| Katharine Jo Kulas | Cum Laude | Nursing | Bachelor of Science | Trempealeau, WI |
| Elizabeth Gretchen Kunkel-Erickson | Magna Cum Laude | Nursing | Bachelor of Science | Albert Lea, MN |
| Caroline Marie LaBorde | | Recreation, Tourism and Therapeutic Recreation: Therapeutic Recreation | Bachelor of Science | Maple Grove, MN |
| Miranda R Lasnetski | | Healthcare Leadership & Administration: Leadership | Bachelor of Applied Science | Ivanhoe, MN |
| Katie Rae Lelonek | | Public Health: Community Health | Bachelor of Science | Tomah, WI |
| Nicole Renee Lillie | Summa Cum Laude | Nursing | Bachelor of Science | Hastings, MN |
| Sarah Marie Lindahl | | Healthcare Leadership & Administration: Leadership | Bachelor of Applied Science | Randolph, MN |
| Kerstin Noelle Lisowski | Magna Cum Laude | Nursing | Bachelor of Science | Woodbury, MN |
| Hannah Marie Litchy | Summa Cum Laude | Nursing | Bachelor of Science | Avon, MN |
| Adam Michael Loll | | Exercise & Rehabilitative Sciences: Exercise Science | Bachelor of Science | Marshfield, WI |
| Brianna Lynn Luciano | Cum Laude | Recreation, Tourism and Therapeutic Recreation: Therapeutic Recreation / Psychology | Bachelor of Science | Mount Prospect, IL |
| Samantha Jo Lureen | Cum Laude | Nursing | Bachelor of Science | Shakopee, MN |
| Katie Lydon | | Social Work | Bachelor of Social Work | La Crosse, WI |
| Scarlet P Maass | | Exercise & Rehabilitative Sciences: Clinical Exercise Science | Bachelor of Science | Rochester, MN |
| Lubna Moukhtar Magzoup Malik | | Social Work | Bachelor of Social Work | Rochester, MN |
| Maria Dawn Marohn | Magna Cum Laude | Nursing | Bachelor of Science | Bloomington, MN |
| Joshua Michael Marshall | Summa Cum Laude | Public Health: Health Administration | Bachelor of Science | Princeton, MN |
| Catherine LeeAnn McCarthy | | Recreation, Tourism and Therapeutic Recreation: Recreation and Tourism | Bachelor of Science | Hales Corners, WI |
| Aidan Kelly McGraw | | Recreation, Tourism and Therapeutic Recreation: Therapeutic Recreation | Bachelor of Science | Mankato, MN |
| Derek J McMahon | | Exercise & Rehabilitative Sciences: Exercise Science | Bachelor of Science | Zimmerman, MN |
| Sarah Elizabeth Mehus | Cum Laude | Nursing: RN to BS Completion | Bachelor of Science | Rochester, MN |
| Madeline Ann Meierotto | | Social Work | Bachelor of Social Work | Hudson, WI |
| Hailey J. Meyers | | Exercise & Rehabilitative Sciences: Movement Science | Bachelor of Science | Fairmont, MN |
| Danielle Marie Moore | | Social Work | Bachelor of Social Work | Plainview, MN |
| Allison Lorraine More | Cum Laude | Nursing | Bachelor of Science | Byron, MN |
| Alec Jarrett Morris | | Exercise & Rehabilitative Sciences: Exercise Science | Bachelor of Science | La Crosse, WI |
| Sierra G Morrison | | Social Work | Bachelor of Social Work | Rosemount, MN |
| Bianca Rose Mueller | | Social Work | Bachelor of Social Work | Winona, MN |
| Tristen Kai Mueller | | Recreation, Tourism and Therapeutic Recreation: Recreation and Tourism | Bachelor of Science | Tokyo, Japan |
| Syerah K Mulhern-Allred | | Exercise & Rehabilitative Sciences: Exercise Science | Bachelor of Science | Madison, WI |
| Maxwell Luke Murray | Summa Cum Laude | Nursing | Bachelor of Science | Oakdale, MN |
| Lisa Nicole Nadeau | | Exercise & Rehabilitative Sciences: Movement Science | Bachelor of Science | Shoreview, MN |
| Gail M Nelson | | Exercise & Rehabilitative Sciences: Movement Science | Bachelor of Science | North Branch, MN |
| Jacqueline M Nelson | | Social Work | Bachelor of Social Work | Cambridge, MN |
| Elizabeth G Neveau | Summa Cum Laude | Exercise & Rehabilitative Sciences: Movement Science | Bachelor of Science | Oshkosh, WI |
| Randi Nicholson Johnston | | Nursing: RN to BS Completion | Bachelor of Science | La Crosse, WI |
| Emily Rose Nielsen | | Social Work | Bachelor of Social Work | Stewartville, MN |
| Haley Anne Notch | | Exercise & Rehabilitative Sciences: Movement Science | Bachelor of Science | Waconia, MN |
| Megan Ann Nysven | | Nursing: RN to BS Completion | Bachelor of Science | Strum, WI |
| Danielle Erin Olson | Summa Cum Laude | Nursing | Bachelor of Science | Elk Mound, WI |
| Rachel Ann Pack | Summa Cum Laude | Nursing | Bachelor of Science | Hayfield, MN |
| Tristin David Paulson | | Exercise & Rehabilitative Sciences: Exercise Science | Bachelor of Science | Brookston, MN |
| Jaylen Rose Pauly | Summa Cum Laude | Nursing | Bachelor of Science | Albertville, MN |
| Vaneesa Lee Pavek | | Nursing | Bachelor of Science | Montgomery, MN |
| Ellie F Peterson | | Exercise & Rehabilitative Sciences: Clinical Exercise Science | Bachelor of Science | Osseo, MN |
| Kendra Christine Peterson | Cum Laude | Nursing | Bachelor of Science | Roseville, MN |
| Madalyn Peterson | | Social Work | Bachelor of Social Work | Wausau, WI |
| Alixandra Jo Petrik | Magna Cum Laude | Recreation, Tourism and Therapeutic Recreation: Recreation and Tourism | Bachelor of Science | North Branch, MN |
| Alexandria Judith Pischke | | Social Work | Bachelor of Social Work | Onalaska, WI |
| Camille Iris Plagge | Summa Cum Laude | Social Work | Bachelor of Social Work | Lake City, MN |
| Julia Ann Plechaty | Magna Cum Laude | Nursing | Bachelor of Science | Jordan, MN |
| Maggie Lynn Fang Plouff | Magna Cum Laude | Exercise & Rehabilitative Sciences: Movement Science | Bachelor of Science | Green Bay, WI |
| Sydney Katherine Raber | Magna Cum Laude | Recreation, Tourism and Therapeutic Recreation: Therapeutic Recreation | Bachelor of Science | Neenah, WI |
| Aliyah Rankin | | Exercise & Rehabilitative Sciences: Clinical Exercise Science | Bachelor of Science | Mukwonago, WI |
| Madelyn Marie Raschka | | Nursing | Bachelor of Science | Pewaukee, WI |
| Lindsey Celines Reyes-Jungwirth | | Nursing | Bachelor of Science | Inver Grove Heights, MN |
| Cammi Nicole Riemer | Magna Cum Laude | Exercise & Rehabilitative Sciences: Movement Science | Bachelor of Science | DeForest, WI |
| Caitlin Shea Riley | | Public Health: Health Administration | Bachelor of Science | Cedar Rapids, IA |
| Grace Katherine Rindy | Summa Cum Laude | Nursing | Bachelor of Science | Madison, WI |
| Megan Grace Ringeisen | | Exercise & Rehabilitative Sciences: Clinical Exercise Science | Bachelor of Science | Goodhue, MN |
| Linsey Marie Roe | | Social Work | Bachelor of Social Work | Rochester, MN |
| Calli Jane Roers | Summa Cum Laude | Recreation, Tourism and Therapeutic Recreation: Therapeutic Recreation | Bachelor of Science | Reedsburg, WI |
| Ruben Antonio Romero | | Nursing: RN to BS Completion | Bachelor of Science | Kasson, MN |
| Haley Marie Ronayne | | Exercise & Rehabilitative Sciences: Clinical Exercise Science | Bachelor of Science | Lakeville, MN |
| Heather Lynn Rose | | Social Work | Bachelor of Social Work | Kasson, MN |
| Claire Elizabeth Sandkuhler | Magna Cum Laude | Social Work | Bachelor of Social Work | Mounds View, MN |
| Orlando Sapon | | Social Work | Bachelor of Social Work | Los Angeles, CA |
| Lillie Marie Schluessler | Magna Cum Laude | Nursing | Bachelor of Science | Lakeville, MN |
| Lexi Kay Schmidtknecht | Summa Cum Laude | Nursing: RN to BS Completion | Bachelor of Science | Fountain City, WI |
| Sara Scott | | Nursing: RN to BS Completion | Bachelor of Science | Eau Claire, WI |
| Emily Ann Secord | | Exercise & Rehabilitative Sciences: Movement Science | Bachelor of Science | La Crosse, WI |
| Jasmina Nina Sejfovic | Magna Cum Laude | Nursing | Bachelor of Science | Muskego, WI |
| Sydney Jo Siegle | Summa Cum Laude | Nursing | Bachelor of Science | New Prague, MN |
| Emily A Sinn | | Healthcare Leadership & Administration: Leadership | Bachelor of Applied Science | Chatfield, MN |
| Brooke Maye Sinning | | Exercise & Rehabilitative Sciences: Clinical Exercise Science | Bachelor of Science | Pine Island, MN |
| Chandra Kay Skaaren | | Nursing: RN to BS Completion | Bachelor of Science | La Crosse, WI |
| Ella Eileen Skarphol | | Nursing | Bachelor of Science | Anoka, MN |
| Brittany Rose Sletten | Magna Cum Laude | Nursing | Bachelor of Science | Eden Prairie, MN |
| Morgan Lenee Stengel | Magna Cum Laude | Nursing | Bachelor of Science | Janesville, WI |
| Madison Ann Stevens | | Social Work | Bachelor of Social Work | Zimmerman, MN |
| Jennifer Lynn Storlie | | Healthcare Leadership & Administration: Leadership | Bachelor of Applied Science | Rochester, MN |
| Corinne Nicole Stoutenborough | Summa Cum Laude | Nursing | Bachelor of Science | Fort Atkinson, WI |
| Lauren Elizabeth Stute | | Exercise & Rehabilitative Sciences: Exercise Science | Bachelor of Science | Chisago City, MN |
| Jess Thomas Sullivan | | Exercise & Rehabilitative Sciences: Exercise Science | Bachelor of Science | Sparta, WI |
| Synetha Katherine Sultze-Lor | | Exercise & Rehabilitative Sciences: Exercise Science | Bachelor of Science | Winona, MN |
| Wyatt J Taylor | | Exercise & Rehabilitative Sciences: Movement Science | Bachelor of Science | White Bear Lake, MN |
| Kou Thao | | Public Health: Health Administration | Bachelor of Science | Saint Paul, MN |
| Austin Kay Thom | | Social Work | Bachelor of Social Work | Morristown, MN |
| Logan Michael Thomas | | Recreation, Tourism and Therapeutic Recreation: Recreation and Tourism | Bachelor of Science | East Bethel, MN |
| Anna Elizabeth Thompson | | Public Health: Community Health | Bachelor of Science | Shoreview, MN |
| Katherine Jean Timmons | Summa Cum Laude | Nursing | Bachelor of Science | White Bear Lake, MN |
| Olivia Lin Tobin | Magna Cum Laude | Nursing | Bachelor of Science | North Mankato, MN |
| Lindsay Elizabeth Tupy | Magna Cum Laude | Social Work | Bachelor of Social Work | New Prague, MN |
| Mathew Thomas Uhlir | | Social Work | Bachelor of Social Work | Stewartville, MN |
| Shereen Samson Vallabouy | | Recreation, Tourism and Therapeutic Recreation: Recreation and Tourism | Bachelor of Science | Ipoh, Perak, Malaysia |
| Carolyn Renee Van Meter | Summa Cum Laude | Nursing | Bachelor of Science | Apple Valley, MN |
| Kalli Katherine Van Tassell | | Exercise & Rehabilitative Sciences: Clinical Exercise Science | Bachelor of Science | Buffalo, MN |
| Casey Margaret Volkmann | Magna Cum Laude | Exercise & Rehabilitative Sciences: Movement Science / Pyschology | Bachelor of Science | Wadena, MN |
| Chelsie Marie Vreeman | Cum Laude | Nursing: RN to BS Completion | Bachelor of Science | Spring Valley, MN |
| Grace Elizabeth Wagner | | Social Work | Bachelor of Social Work | Watertown, MN |
| Quinn DiPaulo Walsh | Summa Cum Laude | Nursing | Bachelor of Science | Lake in the Hills, IL |
| Kyra Raye Walters | | Nursing | Bachelor of Science | Austin, MN |
| Meijin Wang | | Nursing: RN to BS Completion | Bachelor of Science | rochester, MN |
| Carley Joyce Ward | Cum Laude | Nursing | Bachelor of Science | Durand, WI |
| Elisabeth C Wardell | Magna Cum Laude | Exercise & Rehabilitative Sciences: Movement Science | Bachelor of Science | Midland, MI |
| Makenna Marie Bechel Wehner | Summa Cum Laude | Nursing | Bachelor of Science | Apple Valley, MN |
| Madeline Weis | | Social Work | Bachelor of Social Work | Eyota, MN |
| Lindsey A Welch | | Nursing: RN to BS Completion | Bachelor of Science | Preston, MN |
| Ben Michael Wessel-Weinrich | | Exercise & Rehabilitative Sciences: Exercise Science | Bachelor of Science | Prior Lake, MN |
| Abigail Marie Wicka | Summa Cum Laude | Nursing | Bachelor of Science | Winona, MN |
| Ryan Trent Wickman | | Exercise & Rehabilitative Sciences: Movement Science | Bachelor of Science | Duluth, MN |
| Julia Catherine Willis | Summa Cum Laude | Nursing | Bachelor of Science | Plymouth, MN |
| Gabriella Amara Wilson | Magna Cum Laude | Nursing | Bachelor of Science | Elk River, MN |
| Nicholas Aidan Wilson | | Recreation, Tourism and Therapeutic Recreation: Recreation and Tourism | Bachelor of Science | Grayslake, IL |
| Paige L Winter | | Exercise & Rehabilitative Sciences: Clinical Exercise Science | Bachelor of Science | Owatonna, MN |
| Taylor Elizabeth Woltman | | Recreation, Tourism and Therapeutic Recreation: Therapeutic Recreation | Bachelor of Science | Owatonna, MN |
| Stephanie P. Young | | Social Work | Bachelor of Social Work | Fairmont, MN |
| Jessica Zach | Cum Laude | Nursing | Bachelor of Science | Oconomowoc, WI |
| Kole Zajicek | Magna Cum Laude | Nursing | Bachelor of Science | Dodgeville, WI |
| Sydney Zierden | | Nursing | Bachelor of Science | Elk River, MN |
| Cole Raymond Zimbauer | | Exercise & Rehabilitative Sciences: Exercise Science | Bachelor of Science | Greenwood, WI |
| Taylor Ann Zimmerman | Magna Cum Laude | Exercise & Rehabilitative Sciences: Movement Science | Bachelor of Science | Spring Valley, MN |
| Lynsey Rose Zuck | | Nursing | Bachelor of Science | Chaska, MN |
Master's
| | | | |
| --- | --- | --- | --- |
| Name | Program | Degree | Hometown |
| Salwa Mohamed Abdalla | Social Work | Master of Social Work | Apple Valley, MN |
| Karley Malloy Aguiar | Social Work | Master of Social Work | Chatfield, MN |
| Faythe Bauer Weinmann | Nurse Educator | Master of Science | La Crosse, WI |
| Justine Marie Beal | Athletic Training | Master of Science | Farmington, MN |
| Brittney Ann Berge | Social Work | Master of Social Work | Kasson, MN |
| Shawn Allan Bergeth | Social Work | Master of Social Work | Rochester, MN |
| Baylee Mae Beulke | Athletic Training | Master of Science | Maple Grove, MN |
| Mindy S. Binder | Nurse Educator | Master of Science | Holmen, WI |
| Kelsie Ann Marie Bolstad | Social Work | Master of Social Work | La Crosse, WI |
| Sara E. Bonde | Nursing Leadership: Nursing and Organizational Leadership | Master of Science | Lake City, MN |
| Susan Bothun | Adult-Gerontology Clinical Nurse Specialist | Master of Science | Rochester, MN |
| Jaidyn Boynton | Social Work | Master of Social Work | Jaidyn Boynton, MN |
| Jana Brackey | Social Work | Master of Social Work | Fergus Falls, MN |
| Rachael Ann Brown | Social Work | Master of Social Work | Minneapolis , MN |
| Nikolina Bryant | Social Work | Master of Social Work | Zumbrota, MN |
| Jessica Brzezinski | Social Work | Master of Social Work | Minneapolis, MN |
| Kathryn Anne Buchholz | Social Work | Master of Social Work | Rochester, MN |
| Haylee Cadena | Social Work | Master of Social Work | La Crosse, WI |
| Mandy Michelle Cain | Social Work | Master of Social Work | Dodge Center, MN |
| Alaina Carlson | Health/Healthcare Leadership | Master of Science | Rochester, MN |
| Kaitlyn A. Croeker | Athletic Training | Master of Science | Kenosha, WI |
| Leah Nicole Crossley | Social Work | Master of Social Work | Grand Rapids, MN |
| Amalia Maria Crowe | Social Work | Master of Social Work | Dodge Center, MN |
| Kennedy Day | Social Work | Master of Social Work | Maple Grove, MN |
| Jenna Dick | Social Work | Master of Social Work | Lafayette , MN |
| Brooke Michelle Echter | Athletic Training | Master of Science | Adrian, MN |
| Kari Alison Ellingsberg | Nurse Educator | Master of Science | Kenyon, MN |
| Moriah Ewing | Social Work | Master of Social Work | Holmen, WI |
| Nicole Fairbanks | Social Work | Master of Social Work | Cass Lake , MN |
| Rakia Farah | Social Work | Master of Social Work | Spring Lake Park , MN |
| Isabell Fasnacht | Social Work | Master of Social Work | Holmen, WI |
| Alexis M Fenrick | Athletic Training | Master of Science | Janesville, WI |
| Amy Jean Fiala | Nurse Educator | Master of Science | Madelia, MN |
| Trevor Ford | Nursing Leadership: Nursing and Organizational Leadership | Master of Science | Byron, MN |
| Paul Clinton Forrester | Social Work | Master of Social Work | Caledonia, MN |
| Samantha J. Fuller | Social Work | Master of Social Work | Rochester, MN |
| Jessica Jo Geary | Social Work | Master of Social Work | Rochester, MN |
| Jessica Karen Gomez | Social Work | Master of Social Work | Fargo, ND |
| Kristine Greiber | Social Work | Master of Social Work | Chicago, IL |
| Edward Hedin | Social Work | Master of Social Work | Winona, MN |
| Naomi Hemingway | Social Work | Master of Social Work | Eagan, MN |
| Colin Heraty | Athletic Training | Master of Science | Wabasha, MN |
| Eileen Ann Hess | Social Work | Master of Social Work | Roseville, MN |
| Brittany Rose Hetrick | Social Work | Master of Social Work | Anoka, MN |
| Tailor Jo Hofman | Health/Healthcare Leadership | Master of Science | Rochester, MN |
| Kayla Holzwarth | Social Work | Master of Social Work | Elk Mound , WI |
| Madelyn Day Horvath | Athletic Training | Master of Science | Duluth, MN |
| Adam Johnson | Athletic Training | Master of Science | Saint Paul, MN |
| Emily Danielle Canete Jonson | Social Work | Master of Social Work | Rockford, MN |
| Grace A. Julian | Athletic Training | Master of Science | Plymouth, MN |
| Chelsey Kasel | Athletic Training | Master of Science | Taopi, MN |
| Breana Marie Kirch | Social Work | Master of Social Work | Merrimac, WI |
| Zoe Knops | Social Work | Master of Social Work | Cambridge, WI |
| Hanna Kuehn | Social Work | Master of Social Work | Cuiabá, Matto Grosso, Brazil |
| Isabella Rose Lamantia | Athletic Training | Master of Science | West Chicago, IL |
| Alyssa Lowe | Social Work | Master of Social Work | Grand Rapids , MN |
| Rachel Rae Luehmann | Social Work | Master of Social Work | Winona, MN |
| Melissa Jo McCormick | Social Work | Master of Social Work | Onalaska, WI |
| Amanda Neil | Social Work | Master of Social Work | Lindstrom, MN |
| Kari R. Noot | Social Work | Master of Social Work | Madison, WI |
| Megan Lynn Norton | Social Work | Master of Social Work | Bemidji, MN |
| Michelle Marie Olheiser | Social Work | Master of Social Work | Saint Paul, MN |
| Makenzie Olson | Social Work | Master of Social Work | Waterville , IA |
| Katie O'Neil | Social Work | Master of Social Work | Rochester, MN |
| Sarah Katherine O'Shaughnessy | Nurse Educator | Master of Science | Rochester, MN |
| Ella Otto | Athletic Training | Master of Science | Saint Paul, MN |
| Hannah Elise Partch | Social Work | Master of Social Work | Duluth, MN |
| Emily Patten | Social Work | Master of Social Work | Wabasha, MN |
| Rachel Ellen Petersen | Social Work | Master of Social Work | Rochester, MN |
| Megan Anne Plapp | Nurse Educator | Master of Science | Rochester, MN |
| Jazmin Claudia Portillo | Social Work | Master of Social Work | Rochester , MN |
| Madelyn Janine Quackenbush | Social Work | Master of Social Work | La Crosse, WI |
| Caleb Radloff | Athletic Training | Master of Science | Le Sueur, MN |
| Jill Marie Rehl | Nursing Leadership: Nursing and Organizational Leadership | Master of Science | Duluth, MN |
| Logan Rupnow | Athletic Training | Master of Science | West Bend, WI |
| Sabrina Mary Marie Schlichting | Social Work | Master of Social Work | Lake City, MN |
| Makayla Shepard | Social Work | Master of Social Work | Saint Paul, MN |
| Steven Smith | Athletic Training | Master of Science | Mabel, MN |
| Sydney Smith | Athletic Training | Master of Science | Shakopee, MN |
| Megan Louise Tarara | Nursing Leadership: Nursing and Organizational Leadership | Master of Science | Woodbury, MN |
| Julianna Tavale | Social Work | Master of Social Work | Saint Joseph, MN |
| Nicholas Adam Taylor | Social Work | Master of Social Work | Madison, WI |
| Jennifer Tenley | Nurse Educator | Master of Science | Rochester, MN |
| Sophie Tomsky | Social Work | Master of Social Work | Duluth, MN |
| Abigail Janine Tatyana Turnquest | Athletic Training | Master of Science | Nassau, Bahamas |
| Melissa Vieth | Nurse Educator | Master of Science | Spring Valley, MN |
| Joshua Tuan Anh Vu | Nursing Leadership: Nursing and Organizational Leadership | Master of Science | Byron , MN |
| Renee Walton | Social Work | Master of Social Work | La Crosse , WI |
| Kaitlyn Ward | Athletic Training | Master of Science | Rochester, MN |
| Shannon Washington | Athletic Training | Master of Science | Cocoa, FL |
| Samantha Bryja Watson | Social Work | Master of Social Work | Morris, WI |
| Emilie Wivoda | Social Work | Master of Social Work | Bovey, MN |
Doctorate
| | | | |
| --- | --- | --- | --- |
| Name | Program | Degree | Hometown |
| Muna Alimire | Family Nurse Practitioner | Doctor of Nursing Practice | Rochester, MN |
| Carrissa Anderson | Family Nurse Practitioner | Doctor of Nursing Practice | Mantorville, MN |
| Lisa Danielle Wikoff Anderson | Family Nurse Practitioner | Doctor of Nursing Practice | Crookston, MN |
| Rachael Teresa Anderson | Adult-Gerontology Acute Care Nurse Practitioner | Doctor of Nursing Practice | Brooklyn Park, MN |
| Natalie M. Bauman | Family Nurse Practitioner | Doctor of Nursing Practice | Chanhassen, MN |
| Kristen Bebeau | Nursing Leadership: Practice and Leadership Innovations | Doctor of Nursing Practice | Nowthen, MN |
| Maclane Mae Bever | Family Nurse Practitioner | Doctor of Nursing Practice | Winona, MN |
| Kady Ann Busho | Family Nurse Practitioner | Doctor of Nursing Practice | Grand Meadow, MN |
| Mandy Christensen-Geraci | Adult-Gerontology Acute Care Nurse Practitioner | Doctor of Nursing Practice | Marshfield, WI |
| Kristin M. Clifford | Adult-Gerontology Acute Care Nurse Practitioner | Doctor of Nursing Practice | Trimont, MN |
| Adam Popp Cronin | Adult-Gerontology Acute Care Nurse Practitioner | Doctor of Nursing Practice | Lakeville, MN |
| Emily Ann Dallmann | Family Nurse Practitioner | Doctor of Nursing Practice | Edina, MN |
| Emily Leanne Doskey | Adult-Gerontology Clinical Nurse Specialist | Doctor of Nursing Practice | Rochester, MN |
| Nicholas E. Dull | Family Nurse Practitioner | Doctor of Nursing Practice | Ironwood, MI |
| Molly J. Flo | Family Nurse Practitioner | Doctor of Nursing Practice | Albert Lea, MN |
| Kassandra Goodman | Adult-Gerontology Clinical Nurse Specialist | Doctor of Nursing Practice | Prairie du Sac, WI |
| Elizabeth Sue Green-Kronebusch | Nursing Leadership: Practice and Leadership Innovations | Doctor of Nursing Practice | Lewiston, MN |
| Shay Le Gruber | Family Nurse Practitioner | Doctor of Nursing Practice | Blooming Prairie, MN |
| Melissa S. Haldeman | Psychiatric-Mental Health Nurse Practitioner | Doctor of Nursing Practice | Faribault, MN |
| Danielle Hoven | Adult-Gerontology Acute Care Nurse Practitioner | Doctor of Nursing Practice | Bemidji, MN |
| Nkemdilim Kelly Albert | Family Nurse Practitioner | Doctor of Nursing Practice | Saint Paul, MN |
| Evan S. Johnson | Adult-Gerontology Acute Care Nurse Practitioner | Doctor of Nursing Practice | Northfield, MN |
| Joseph Anthony Hoglund Klein | Nursing Leadership: Practice and Leadership Innovations | Doctor of Nursing Practice | West Saint Paul, MN |
| Jaimee A. Kudrle | Psychiatric-Mental Health Nurse Practitioner | Doctor of Nursing Practice | Mankato, MN |
| Madeline Marie Kuntz | Psychiatric-Mental Health Nurse Practitioner | Doctor of Nursing Practice | Lino Lakes, MN |
| Kayla Marie Kvell | Psychiatric-Mental Health Nurse Practitioner | Doctor of Nursing Practice | Stillwater, MN |
| Brittany N. Larson | Family Nurse Practitioner | Doctor of Nursing Practice | Reading, MN |
| Tracy Linden | Psychiatric-Mental Health Nurse Practitioner | Doctor of Nursing Practice | Rochester, MN |
| Kathe Claire Lopez | Family Nurse Practitioner | Doctor of Nursing Practice | Long Island, NY |
| Courtney Marie Maks | Family Nurse Practitioner | Doctor of Nursing Practice | Rapid City, SD |
| Katie Irene Maragos | Adult-Gerontology Acute Care Nurse Practitioner | Doctor of Nursing Practice | Rochester, MN |
| Michaela A McLain | Adult-Gerontology Acute Care Nurse Practitioner | Doctor of Nursing Practice | Victoria, MN |
| Nicole Ann Mueller | Family Nurse Practitioner | Doctor of Nursing Practice | Westby, WI |
| Rhodene Michellene Mullings | Family Nurse Practitioner | Doctor of Nursing Practice | Negril, Jamaica |
| Delphine N Munya | Psychiatric-Mental Health Nurse Practitioner | Doctor of Nursing Practice | Otsego, MN |
| Zuzanna Kuchta Nahum | Adult-Gerontology Acute Care Nurse Practitioner | Doctor of Nursing Practice | Saint Paul, MN |
| Mary Virginia Neumann | Adult-Gerontology Acute Care Nurse Practitioner | Doctor of Nursing Practice | Hermantown , MN |
| Lisa Marie Olson | Family Nurse Practitioner | Doctor of Nursing Practice | Thief River Falls, MN |
| Kristin Ann Oscarson | Psychiatric-Mental Health Nurse Practitioner | Doctor of Nursing Practice | Eagan, MN |
| Sonam Paldon | Family Nurse Practitioner | Doctor of Nursing Practice | Eagan, MN |
| LaRée Lynn Fluegel Rowan | Nursing Leadership: Practice and Leadership Innovations | Doctor of Nursing Practice | Evansville, WI |
| Mark A. Rustin | Adult-Gerontology Acute Care Nurse Practitioner | Doctor of Nursing Practice | West Des Moines, IA |
| Alicia Ditty Schneider | Adult-Gerontology Acute Care Nurse Practitioner | Doctor of Nursing Practice | Brooklyn Center, MN |
| Wade Robert Sendelbach | Adult-Gerontology Acute Care Nurse Practitioner | Doctor of Nursing Practice | Pipestone, MN |
| Wendy Sarah Stanko | Family Nurse Practitioner | Doctor of Nursing Practice | Southbury, MN |
| Lindsay Styx | Nursing Leadership: Nursing and Organizational Leadership | Doctor of Nursing Practice | Winona, MN |
| Rebecca Templin | Family Nurse Practitioner | Doctor of Nursing Practice | Sauk Rapids, MN |
| Jennifer L. Thaler | Adult-Gerontology Clinical Nurse Specialist | Doctor of Nursing Practice | Rochester, MN |
| Katrina Rose Vaske | Family Nurse Practitioner | Doctor of Nursing Practice | Antigo, WI |
| Rachel Marie Vesta | Nursing Leadership: Practice and Leadership Innovations | Doctor of Nursing Practice | Bemidji, MN |
| Jamie Laird Waldera | Psychiatric-Mental Health Nurse Practitioner | Doctor of Nursing Practice | La Crosse, WI |
| Cora Lyn Wilson | Family Nurse Practitioner | Doctor of Nursing Practice | New Hampton, IA |
Undergraduate
| | | | | |
| --- | --- | --- | --- | --- |
| Name | Honors | Major | Degree | Hometown |
| Mason Lee Agee | Cum Laude | Computer Science: Applied Computer Science | Bachelor of Science | Kasson, MN |
| Isaac Fuad Al-Abad | | Computer Science | Bachelor of Science | Winona, MN |
| Samuel James Aleks | | Computer Science | Bachelor of Science | Shakopee, MN |
| Ei Myatnoe Aung | Magna Cum Laude | Computer Science | Bachelor of Science | Yangon, Burma |
| Abukar M Aweis | | Computer Science | Bachelor of Science | Rochester, MN |
| Bailey John Banaszynski | Magna Cum Laude | Composite Materials Engineering | Bachelor of Science | Milwaukee, WI |
| Autumn Brianna Barloon | | Biology: Cell & Molecular | Bachelor of Science | Rochester, MN |
| Andria Jane Barrett | | Biology: Ecology | Bachelor of Science | Afton, MN |
| William Harrison Beadling | Magna Cum Laude | Geoscience: Environmental Science | Bachelor of Science | Victoria, MN |
| Shekinah Jean Beerman | | Biology: Allied Health | Bachelor of Science | Lewiston, MN |
| Kyle James Blom | | Chemistry: ACS Biochemistry | Bachelor of Science | Rogers, MN |
| Jared Richard Boelter | | Composite Materials Engineering | Bachelor of Science | Winona, MN |
| Lorel Marie Breuer | | Biology: Allied Health | Bachelor of Science | Nowthen, MN |
| Philip Briskey | | Computer Science: Applied Computer Science | Bachelor of Science | La Porte, IN |
| Ashley Anne Buermann | Summa Cum Laude | Mathematics: Secondary Teaching / Mathematics | Bachelor of Science-Teaching | Chisago City, MN |
| Tess E Buescher | Summa Cum Laude | Biology: Cell & Molecular | Bachelor of Science | Nashwauk, MN |
| Anna Lee Cardell | | Statistics | Bachelor of Science | Goodhue, MN |
| Ruth Ann Joy Carlson | Cum Laude | Computer Science | Bachelor of Science | South Saint Paul, MN |
| Benjamin Alfred Carvell | | Chemistry: ACS Chemistry | Bachelor of Science | Farmington, MN |
| Sylvia Pauline Chase | Summa Cum Laude | Chemistry: ACS Biochemistry | Bachelor of Science | Stewartville, MN |
| Zachary Andrew Chew | | Computer Science | Bachelor of Science | Rochester, MN |
| Sarah Cathleen Ciesluk | | Biology: Allied Health | Bachelor of Science | Pequot Lakes, MN |
| Lauryn M Clay | | Biology: Allied Health | Bachelor of Science | Prior Lake, MN |
| Olivia Rose Clemens | | Biology: Allied Health | Bachelor of Science | Oakdale, MN |
| Luke Coelho | Cum Laude | Data Science | Bachelor of Science | Fridley, MN |
| Karlie Marie Cushman | | Biology: Allied Health | Bachelor of Science | Dodgeville, WI |
| Grant Daechsel | | Biology: Ecology | Bachelor of Science | Lakeville, MN |
| Justin Owen Dailey | | Composite Materials Engineering | Bachelor of Science | Altura, MN |
| Noah J Dalsing | | Medical Laboratory Science | Bachelor of Science | New Glarus, WI |
| Charlie Dennis | | Composite Materials Engineering | Bachelor of Science | Saint Paul, MN |
| Tyler Joseph Denny | | Computer Science | Bachelor of Science | Stewartville, MN |
| Joanna Marie Dinesen | | Chemistry: ACS Biochemistry | Bachelor of Science | Woodbury, MN |
| Koro Jack Kai Dixon | | Computer Science: Applied Computer Science | Bachelor of Science | Savage, MN |
| Joshua Alan Downing | | Computer Science | Bachelor of Science | Rochester, MN |
| Grace Malia Ducosin | Magna Cum Laude | Biology: Ecology | Bachelor of Science | Maple Grove, MN |
| Blake Michael Endle | Summa Cum Laude | Composite Materials Engineering | Bachelor of Science | Rochester, MN |
| Taya K Endreson | Cum Laude | Biology: Allied Health | Bachelor of Science | Buffalo, MN |
| Amelia Camille Engman | | Biology: Environmental Science | Bachelor of Science | Oak Grove, MN |
| Kimberly Ann Estabrooks | | Medical Laboratory Science | Bachelor of Science | Red Wing, MN |
| Sheikh Fahad | Magna Cum Laude | Computer Science / Data Science | Bachelor of Science | Dhaka, Bangladesh |
| Kevin Flanaghan | | Chemistry: ACS Chemistry | Bachelor of Science | Saint Paul, MN |
| Lane Thomas Frye | | Composite Materials Engineering | Bachelor of Science | Saint Paul, MN |
| Cameron Reese Fuhrer | | Geoscience: Environmental Science | Bachelor of Science | Edina, MN |
| Justin Jeffrey Fuller | | Computer Science | Bachelor of Science | Savage, MN |
| Zack Owen Fuller | | Data Science | Bachelor of Science | Savage, MN |
| Josh Taylor Giese | | Biology: Cell & Molecular | Bachelor of Science | Hortonville, WI |
| Isabelle Rose Gile | Summa Cum Laude | Biology: Cell & Molecular / Biology: Environmental Science | Bachelor of Science | Rushford, MN |
| Garrett J Glaccum | | Computer Science: Applied Computer Science | Bachelor of Science | Jordan, MN |
| Josiah Michael Gleisner | Magna Cum Laude | Composite Materials Engineering | Bachelor of Science | Saint Cloud, MN |
| Kailee Zee Greenough | | Biology: Allied Health | Bachelor of Science | Hastings, MN |
| Lauryn Hamernik | Summa Cum Laude | Biology: Allied Health | Bachelor of Science | Winona, MN |
| Jenna Rae Hamre | | Biology: Cell & Molecular | Bachelor of Science | Lodi, WI |
| Kellie Lynn Hardecopf | | Composite Materials Engineering | Bachelor of Science | Rochester, MN |
| Tyler James Holmen | | Geoscience: Environmental Science | Bachelor of Science | Waconia, MN |
| Jenna Lee Holst | Cum Laude | Chemistry: ACS Biochemistry / Chemistry: ACS Environmental Chemistry | Bachelor of Science | Wabasha, MN |
| Ethan Adam Jacobs | | Computer Science | Bachelor of Science | Rochester, MN |
| Angelo Hall Jaramillo | | Computer Science | Bachelor of Science | Rochester, MN |
| Matthew David Jilk | | Computer Science | Bachelor of Science | Prior Lake, MN |
| Justin Johnson | | Biology: Allied Health | Bachelor of Science | North Branch, MN |
| Skylar Rose Kamrowski | Magna Cum Laude | Biology: Cell & Molecular | Bachelor of Science | Lewiston, MN |
| Elijah Joseph Kellner | Summa Cum Laude | Chemistry: ACS Materials Chemistry | Bachelor of Science | Pine Island, MN |
| Alexander Louis Klagge | | Composite Materials Engineering | Bachelor of Science | Weaver, MN |
| Coltan Marshall Kline | | Biology: Cell & Molecular | Bachelor of Science | Winona, MN |
| Noah Koenig | | Computer Science: Applied Computer Science | Bachelor of Science | Oronoco, MN |
| Daniel Michael Kolar | | Computer Science | Bachelor of Science | West Saint Paul, MN |
| Abigail Rose Koza | | Chemistry: ACS Environmental Chemistry | Bachelor of Science | Holmen, WI |
| Katie Krautkremer | | Data Science | Bachelor of Science | Mankato, MN |
| Erica R Kudronowicz | | Biology: Allied Health | Bachelor of Science | Eagle, WI |
| William J Larson | | Composite Materials Engineering | Bachelor of Science | Saint Paul, MN |
| Joshua Joseph LeBrun | | Composite Materials Engineering | Bachelor of Science | Lonsdale, MN |
| Martin Liu | | Computer Science | Bachelor of Science | Winona, MN |
| Ryan Liu | Cum Laude | Chemistry: ACS Biochemistry | Bachelor of Science | Bloomington, MN |
| Jean Donalson Louis-Charles | | Composite Materials Engineering | Bachelor of Science | Gressier, Haiti |
| Anna Louise Luessman | | Geoscience: Environmental Science | Bachelor of Science | McFarland, WI |
| Arina Maharjan | | Biology: Allied Health | Bachelor of Science | Winona, MN |
| Tanyi Kristofor Rober Mbu Besong | | Computer Science | Bachelor of Science | Apple Valley, MN |
| Gunner Donald McLeod | | Data Science | Bachelor of Science | Lake Crystal, MN |
| Jeffrey McSherry | | Biology: Allied Health | Bachelor of Science | Woodbury, MN |
| Rylee A Meyer | | Biology: Allied Health | Bachelor of Science | Ellsworth, WI |
| Trevor Guy Minnich | | Geoscience: Environmental Science | Bachelor of Science | Wykoff, MN |
| Adedolapo Mustapha | | Biology: Cell & Molecular | Bachelor of Science | Lauderdale, MN |
| Kayla Sue Nachbar | Summa Cum Laude | Biology: Allied Health | Bachelor of Science | Sauk Rapids – Rice, MN |
| Molly Margaret Nelson | | Physics | Bachelor of Science | Eden Prairie, MN |
| Sawyer James Nelson | | Computer Science: Applied Computer Science | Bachelor of Science | Albert Lea, MN |
| Hanna Eve Nest | Summa Cum Laude | Biology: Allied Health | Bachelor of Science | Mosinee, WI |
| Aidan J Nutt | | Statistics | Bachelor of Science | Northfield, MN |
| Ayomide Oluwatobi Oloyede | | Biology: Allied Health | Bachelor of Science | Rochester, MN |
| Bennett Kenneth Olson | | Biology: Cell & Molecular | Bachelor of Science | Eden Prairie, MN |
| Emma Claire Olson | Magna Cum Laude | Biology: Environmental Science / Biology: Ecology | Bachelor of Science | Apple Valley, MN |
| Jose Emmanuel Ortega Sorto | Magna Cum Laude | Data Science / Management Information Systems | Bachelor of Science | San Salvador, El Salvador |
| Krista Lee Osteraas | | Chemistry: ACS Chemistry | Bachelor of Science | Rochester, MN |
| Natalie Catherine Pearson | | Biology: Allied Health | Bachelor of Science | Bloomington, MN |
| Abigail K Perlinger | | Biology: Environmental Science / Biology: Ecology | Bachelor of Science | Edina, MN |
| Jaden Michelle Petri | | Biology: Allied Health | Bachelor of Science | Andover, MN |
| Kyler Jeffery Phan | | Biology: Cell & Molecular | Bachelor of Science | Highland, WI |
| Morgan Rae Polodna | Magna Cum Laude | Biology: Ecology / Biology: Environmental Science | Bachelor of Science | Winona, MN |
| Creed Dean Poppler | | Chemistry: ACS Materials Chemistry | Bachelor of Science | Austin, MN |
| Alyssa Priebe | | Chemistry: ACS Chemistry | Bachelor of Science | Brooklyn Park, MN |
| Katherine Rachel Quackenbush | Summa Cum Laude | Data Science | Bachelor of Science | Minneapolis, MN |
| Delaney Lynn Reider | | Biology: Allied Health | Bachelor of Science | Green Bay, WI |
| Dylan Glen Rieken | Cum Laude | Biology: Cell & Molecular | Bachelor of Science | Hazel Green, WI |
| Jude Henry Riley | Summa Cum Laude | General Engineering: Electronics | Bachelor of Science | Otsego, MN |
| Valerie J Rodriguez-Bedolla | | Chemistry: ACS Biochemistry | Bachelor of Science | Rosemount, MN |
| Malerie Alaicyn Schei | | Biology: Allied Health | Bachelor of Science | Albertville, MN |
| Cameron J Scheithauer | | Chemistry: ACS Biochemistry | Bachelor of Science | Rib Lake, WI |
| Halie Renee Schettl | | Chemistry: ACS Biochemistry | Bachelor of Science | Kasson, MN |
| Anna May Schneider | Magna Cum Laude | Chemistry: ACS Biochemistry | Bachelor of Science | Wabasha, MN |
| Ashton John Schultz | | Computer Science | Bachelor of Science | Oakdale, MN |
| Kathryn Mary Senchea | Summa Cum Laude | Biology: Allied Health | Bachelor of Science | Sartell, MN |
| Luke Shurtleff | | General Engineering: Industrial Statistics | Bachelor of Science | Trevor, WI |
| Payton Simmons | | Data Science | Bachelor of Science | Onalaska, WI |
| Dawson James Sires | Summa Cum Laude | Computer Science | Bachelor of Science | New Albin, IA |
| Visara Sadie Sok | | Biology: Allied Health | Bachelor of Science | Shakopee, MN |
| Kallista J Spurgeon | Summa Cum Laude | Mathematics: Secondary Teaching | Bachelor of Science-Teaching | Hastings, MN |
| Kallista J Spurgeon | Summa Cum Laude | Mathematics | Bachelor of Science | Hastings, MN |
| Taylor Robert Stanislawski | | Computer Science: Applied Computer Science | Bachelor of Science | Winona, MN |
| Jordyn Johnna Stasiak | | ACS Chemistry (Teaching) / Business Education | Bachelor of Science-Teaching | Holmen, WI |
| Dylan Leo Steberg | Summa Cum Laude | Statistics / Data Science / Mathematics | Bachelor of Science | Wanamingo, MN |
| Kathleen Elizabeth Stoltman | Cum Laude | Biology: Allied Health | Bachelor of Science | Winona, MN |
| Sydney Strachota | | Biology: Allied Health / Spanish | Bachelor of Science | Germantown, WI |
| Nathan Shad Struble | Summa Cum Laude | Data Science | Bachelor of Science | Amherst, WI |
| Asanthika Rickey Marshally Thissanathan | | Computer Science: Applied Computer Science | Bachelor of Science | Winona, MN |
| Malia Renee Trujillo | | Biology: Environmental Science | Bachelor of Science | La Crosse, WI |
| Callie Arla Mae Van Dyck | Summa Cum Laude | Biology: Allied Health | Bachelor of Science | Winona, MN |
| Ellyssa N Wager | Magna Cum Laude | Biology: Cell & Molecular / Psychology | Bachelor of Science | Rochester, MN |
| Bryce Lewis Walde | | Chemistry: ACS Biochemistry | Bachelor of Science | Greenwood, WI |
| Allison Marie Waterman | | Chemistry – General | Bachelor of Science | Denver, IA |
| Kolton John Wendorff | | Geoscience: Geology | Bachelor of Science | Slayton, MN |
| Serina Elizabeth Wirth | | Biology: Cell & Molecular | Bachelor of Science | Blue Earth, MN |
| Jacob Henry Wolter | Magna Cum Laude | Composite Materials Engineering | Bachelor of Science | Holdingford, MN |
| Ezekiel John Woods | Magna Cum Laude | Data Science / Statistics | Bachelor of Science | Avon, MN |
| Paige Kala Yang | | Data Science | Bachelor of Science | White Bear Lake, MN |
| Longge Yuan | | Computer Science: Applied Computer Science | Bachelor of Science | Wuhan, China |
| Emmaline Mae Zabel | | Biology: Allied Health | Bachelor of Science | La Crescent, MN |
| Benjamin Robert Zaske | | Chemistry – General | Bachelor of Science | Chanhassen, MN |
| Olivia Bryn Zill | | Chemistry: ACS Chemistry | Bachelor of Science | Dodge Center, MN |
| Matt Zimmerman | | Computer Science | Bachelor of Science | Forest Lake, MN |
Master's
| | | | |
| --- | --- | --- | --- |
| Name | Program | Degree | Hometown |
| Muira Arndt | Applied Research and Management: Bio/Phy | Professional Science Master's | White Bear Lake, MN |
| James Russell Gronseth | Applied Research and Management: Bio/Phy | Professional Science Master's | Calgary, Canada |
| Madison McCabe | Applied Research and Management: Bio/Phy | Professional Science Master's | Waconia, MN |