Wireless Networks
With over 1,000 wireless access points, you can connect to wifi from anywhere on campus in Winona and Rochester.
If you have trouble connecting wirelessly, contact the Technical Support Center.
Avoid connecting to wireless networks that don't require a password.
The Warrior network is the primary wireless network for students throughout the Winona campuses and for students and employees in Rochester.
It can be accessed via supported personally-owned devices as well as WSU devices using your StarID and password.
If you are unable to connect to the Warrior network, connect to the WSU Guest network. If you are on the RCTC campus, register as guest on the RCTC wifi network.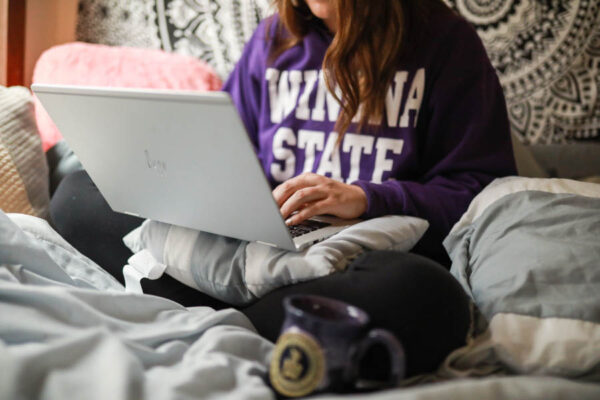 Residence Hall Wifi
Does your wireless signal in your room appear weak or nonexistent? Learn how to optimize your wifi connection.
Warrior Lake
Students and employees can use the WarriorLake network when at East Lake Winona.
This network ranges from the Visitors' Center on Huff Street to the Lake Lodge area, playground, and softball fields near Hamilton Street.
Guest Wifi Access
Eduroam is a coordinated wireless network service that provides members of participating institutions with basic wireless internet access.
It does not provide access to resources like campus printers.
Visitors will need their institutional login information to access Eduroam. For example, you'd use StarID if you're from another Minnesota State institution.
Once logged in, you have access for an unlimited amount of time.
Learn more about the Eduroam network .
Visitors to the Winona campus & Rochester on Broadway campus can creates a temporary account on the WSU Guest wireless network.
When you first connect to WSU Guest, this should open a web browser with the WSU Guest Network page. You'll have the option to sign in via email or a text message.
Sign in with Email
Provide your name and email address
Select "Send Access Code." You'll get an email from no-reply@mist.com.
Enter the access code from the email in the form field
Sign in with a Text Message
Provide your name and email address
Choose your Mobile Carrier and type your Mobile Number (without spaces or dashes)
Select "Send Access Code." You'll get a text from no-repy@mist.com
Enter the access code from the text message in form field
Learn more about the WSU Guest Wifi.
Connecting Personally Owned Devices
Find a step-by-step guide for connecting personal laptops to the WSU Network. To connect tablets and phones:
Open the settings menu
Select Wi-Fi
Choose the appropriate network
Enter your StarID credentials when prompted
Contact Tech Support