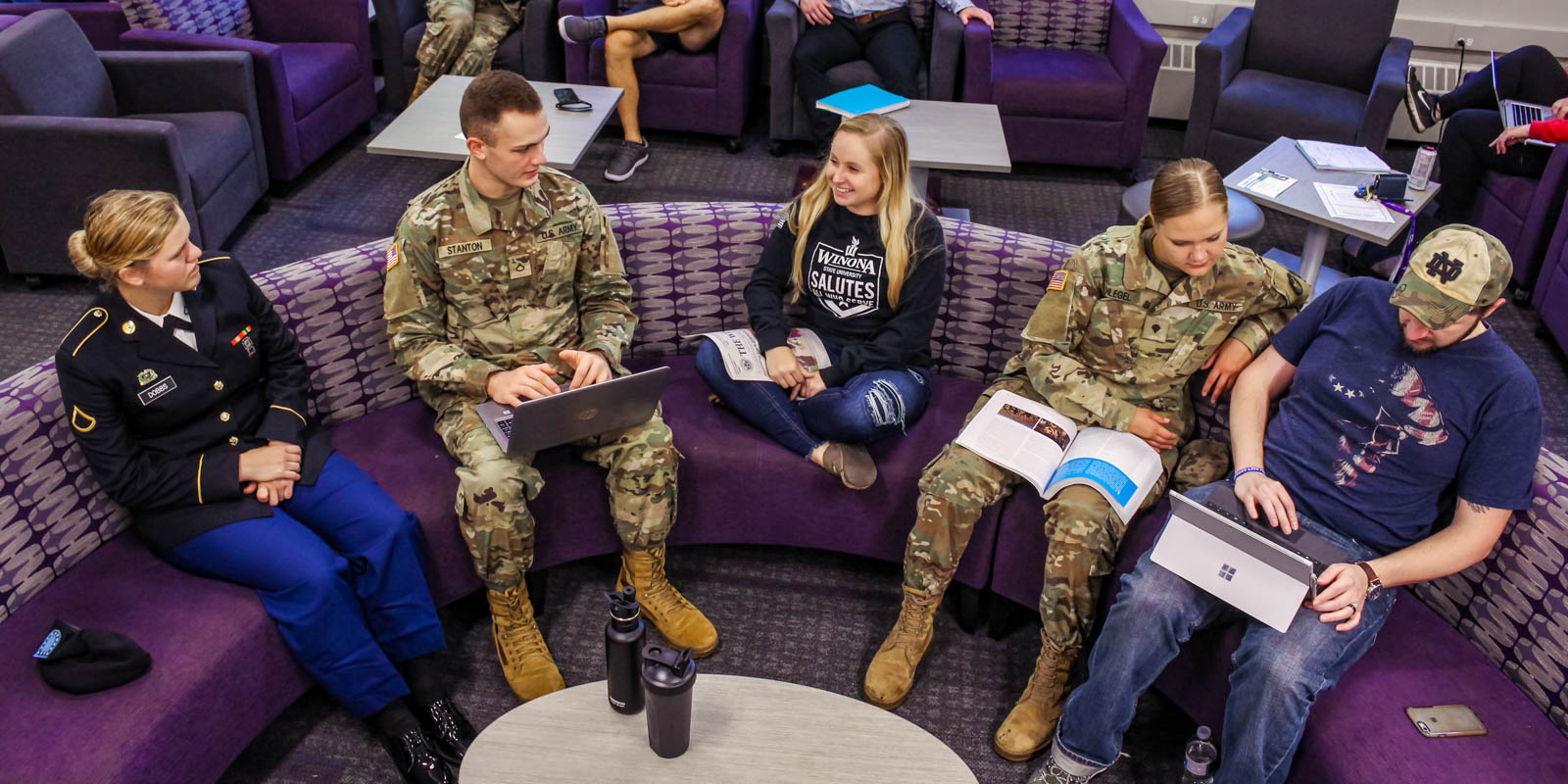 Veterans Resources
Winona State is proud to serve veteran students and students from military families. Each year, nearly 200 students use military benefits to further their education.
The WSU Veterans Affairs Office has an open door policy. Whatever you're dealing with, we can help.
Our team is here to answer all your questions and be your advocate so you can get support you need to achieve your educational goals.
Veteran students are also supported through the Regional Coordinators Office for the Minnesota Department of Veterans Affairs and the Higher Education Veterans Programs for Southeastern Minnesota.
These programs are both housed on the Rochester Community & Technical College campus in EA 115.
Ways to Get Involved at WSU
WSU has a strong support system of veterans and military service members.
Reach out to make new connections and get involved on campus and in the Winona community.
Contact the Veterans Affairs Office
You are welcome to stop by or connect with us to learn about resources for veterans and their families at WSU.
We're here to help you reach your education goals at WSU.
Veterans Affairs Office
Maxwell 110A
170 W Sanborn St.
P.O. Box 5838
Winona, MN 55987
Phone: 507.457.5109
Fax: 507.457.5620
Email WSU Veterans Affairs
Sarah Curtin
VA School Certifying Official
Associate Director of Admissions
Email Sarah Curtin
Mark Larsen
Veterans Assistance Coordinator
Minnesota Department of Veterans Affairs
Higher Education Veterans Program
507.779.9375
Email Mark Larsen
WSU follows all policies established by Minnesota State. Here are a few policies that are specific to veteran students and military families:
​Section 487 (a)(20) of the Higher Education Act (HEA) prohibits the University from providing incentive compensation to employees or third party entities for their success in securing student enrollments or the awarding of Title IV Higher Education Act program funds.