Child, Adolescent & Advocacy Studies
PROGRAM SNAPSHOT

Location: Online
Course Load: Full-Time
Credits: 21
Program Duration: 3 Semesters
Starting Semester: Fall Semester, Spring Semester, Summer Session
Become a child advocacy leader in many professional fields, from health care and education to criminal justice, social services, and more.
Why Study Child, Adolescent & Advocacy Studies at Winona State?
Empowering children and teenagers as well as ensuring their safety is crucial for the next generation of adults to be happy and healthy.
With the Child, Adolescent & Advocacy Studies (CAST) online minor at WSU, you'll be prepared to advocate for the needs of kids and adolescents who are victims and survivors of child abuse, neglect, poverty, slavery, and other forms of maltreatment.
Having a background in child advocacy sets you up for success to:
promote children's physical and emotional health.
intervene at critical moments to safeguard children's well-being.
collaborate with caregivers to reunite families.
represent children's interests within the legal system.
influence public policy to help protect children.
work with families to improve parent-child relationships.
This program is available through WSU's Department of Child Advocacy Studies.
This online program's curriculum was also developed with the help of the National Child Protection Training Center (NCPTC). WSU's partnership is dedicated to preparing child advocates how to address child maltreatment and child rights in the U.S.
What Will You Learn as a Child, Adolescent & Advocacy Studies Minor?
As a CAST minor, you'll learn about the causes, forms, and biopsychosocial impacts of child maltreatment.
You'll also:
get hands-on experience working directly with children and families.
gain the training and skills you need to advocate for children in ways that are ethical, culturally specific, and evidence based.
learn the most effective responses to the types of child maltreatment that are commonly encountered in different disciplines.
This online minor is an asset for anyone who wants to work with or for children and families.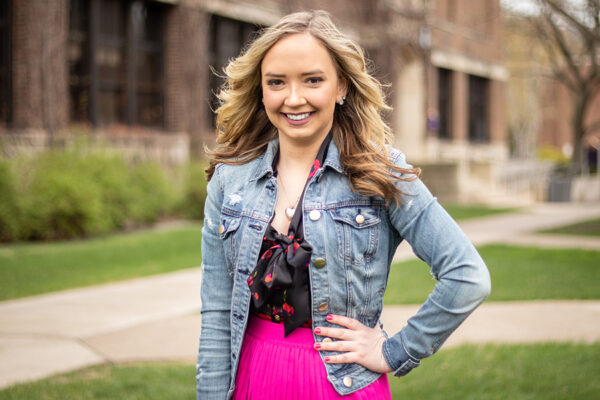 Turning Grief into Determination
Despite facing a personal tragedy before Move-In Day, Kaylee Bayer '21 turned her dream of becoming a nurse into reality through the support of her Nursing and CAST professors.
Flexible Coursework
Coursework is delivered entirely online, making the CAST minor perfect for anyone who wants to fit their education into their personal and professional lives.
And with asynchronous classes, you can complete your assignment anytime, anywhere. This means you can easily fit this in alongside your major degree program without delaying graduation.
Real-World Projects
As a CAST minor, you'll work directly with children and families through a variety of hands-on projects. You'll also complete 120 hours in a supervised, professional, and youth-centered setting as part of your capstone project.
Immerse yourself in the classroom right on campus at WSU's Children's Center.
Or you can apply an internship that you already completed through your major—like student teaching experiences, social work practicums, and pediatric nursing clinicals—to this capstone to save time.
Customized Career Paths
Advocating for children's needs can look different across industries, so it's important to tailor your education to your personal interests and career goals.
The CAST minor pairs well with many major programs at WSU, like Biology, Criminal Justice, Education, Legal Studies, Nursing, Psychology, Social Work, Sociology, and Special Education.
Campus Engagement
Complement your studies and meet other students who are passionate about Child, Adolescent & Advocacy Studies through on-campus clubs and organizations, like the Council for Exceptional Children and Warriors for Kids' Health.
Hear from Child, Adolescent & Advocacy Studies Alumni
I can confidently say I feel prepared to take what I learned from these CAST courses and use them in my field.
Sydney Lawson '23
Having a CAST background has given me a better understanding of family dynamics, and I'm more aware of the resources available to meet the needs of families I work with as a nurse.
Kaylee Bayer '21