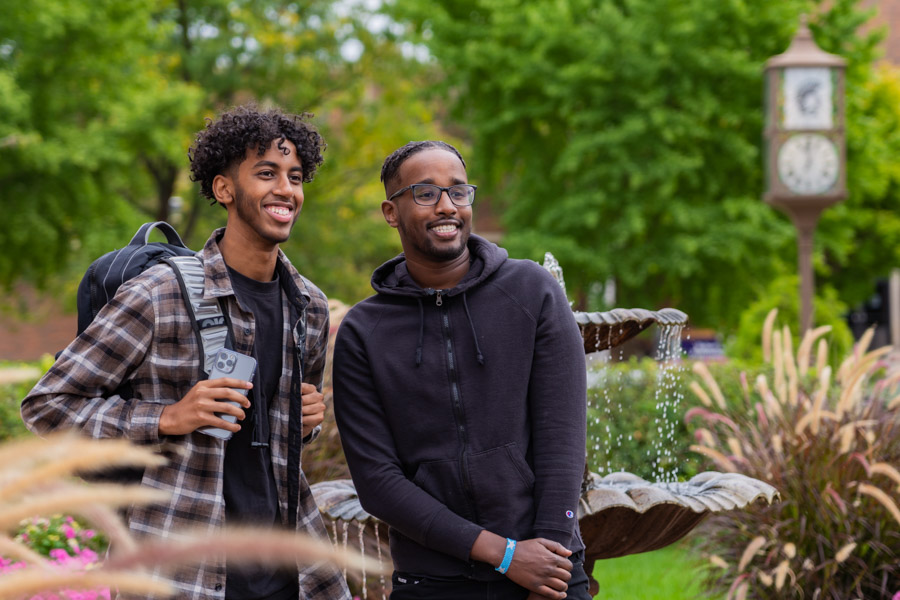 PROGRAM SNAPSHOT

Location: Winona
Course Load: Full-Time
Credits: 18
Program Duration: 2 Semesters
Starting Semester: Fall Semester, Spring Semester, Winter Semester, Summer Session
Introduce yourself to the foundations of human behavior. Get a glimpse of how social interactions influence people's lives.
Why Study Sociology at Winona State?
The world isn't black and white, and sociologists know there's more to people than meets the eye.
If you're passionate about exploring multiple perspectives to fully understand a situation, the Sociology minor may be a good fit for you.
The Sociology minor is meant for students who want to combine their interests of solving problems and hearing people's stories. This program is offered through WSU's Department of Sociology.
94%
of Sociology graduates currently have a job in their field.
What Will You Learn as a Sociology Minor?
As a Sociology minor, you'll learn the fundamentals of social inequality and the basics of social research methods.
You'll also:
compare individual and group identity
appreciate the complexity of social research and data
know how culture and the environment change human behavior
become more aware of the most prevalent social issues in the U.S.
understand how race, social class, and gender influence social behavior
This minor pairs well with many major programs, which allows you to customize your education to suit your personal interests and career goals.
Community Engagement
Although not required, you can do a significant community research project.
A client from the community will visit your upper-level research class and describe an issue they need to address.
You'll work with your classmates to create a survey or an evaluation tool, administer it to the correct populations, analyze the results, and formally present your recommendations to the client.
Several community-wide decisions have been made because of Sociology students' results. Like offering single-sex bathrooms at the Bluff Country Co-op and influencing the design of its expansion.
Research Opportunities
You can expand your class research and further hone your skills by pursuing a faculty-guided research project.
Create an engaging poster and share your findings with others at professional conferences in the local and regional area.
Previous topics that students have explored include the sociology of names and religion and the concept of emerging adulthood.
Study Abroad
Apply what you learn in the classroom by traveling the world. At WSU, you can earn credit that applies to your degree while exploring the globe.
Explore Berlin's transformative shift in visual communications and the court and criminal justice systems in England and Scotland.
Or see the Himalayas up close, enjoy an elephant safari ride, and compare rural and urban areas in Nepal.
Campus Involvement
Complement your studies and meet other students who are passionate about sociology through a handful of campus clubs and organizations.
Like Alpha Kappa Delta honor society, Active Minds, Circle K International, and Dream Closet. Or Racial Integration & Cultural Enrichment (RICE) Club, Unified Warriors, and Winona State Volunteer Club.
Hear from Sociology Alumni
This program has benefited me by making me feel like it's okay to be low class and need help from the government.
Jacklyn Tran '23
With my background in Sociology, I'm continuing my role in demographic upkeep and learning more about health systems through a financial lens.
Sylvia Mikhail '20