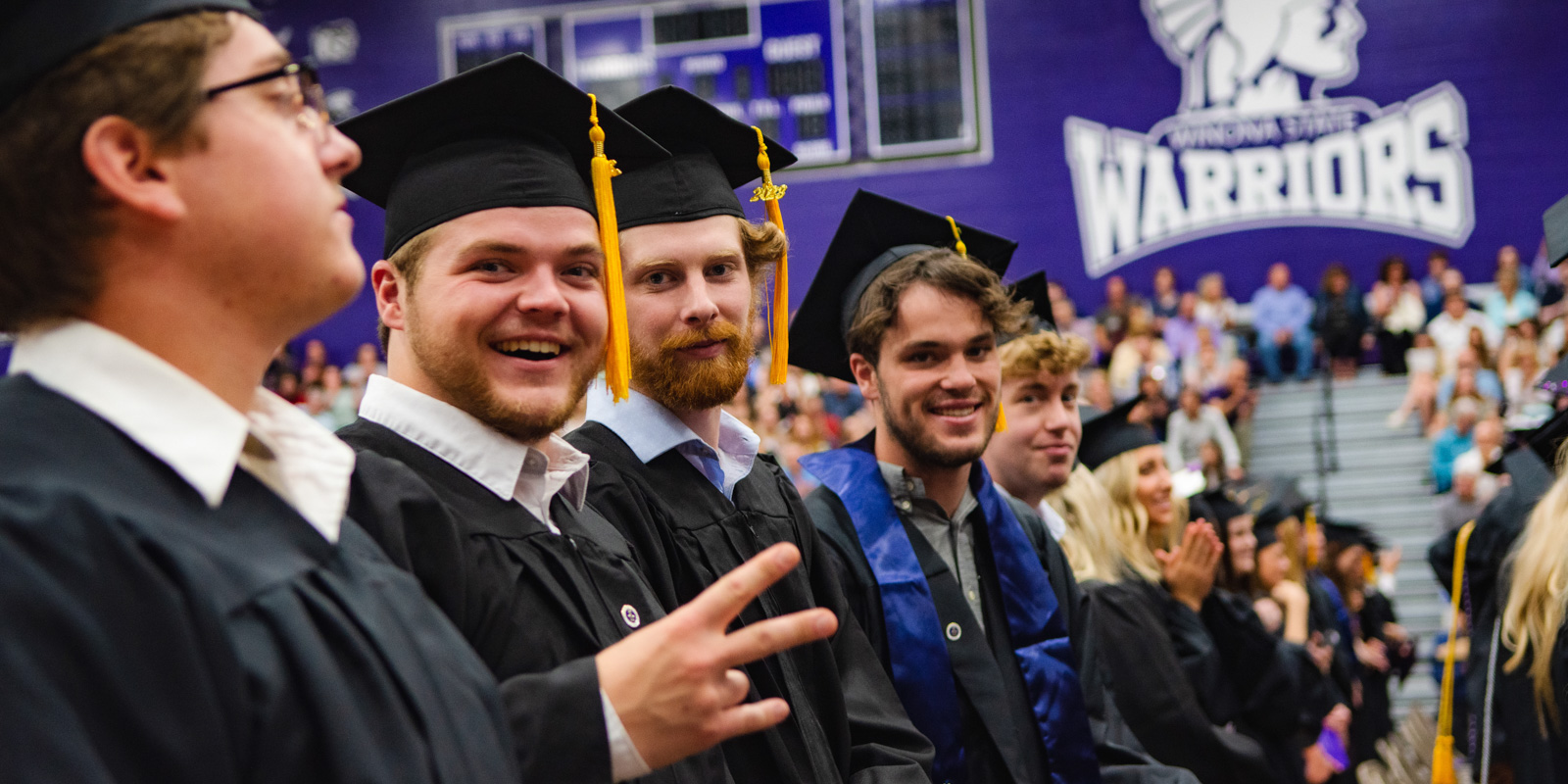 Graduating Students
Congratulations, you did it! You earned your degree, and you deserve to celebrate that amazing achievement.
Commencement Ceremony
Graduation refers to your degree being posted on your official transcript once you meet all degree requirements.
Commencement is the ceremony that celebrates the completion of your degree.
In order to graduate and to participate in the commencement ceremony, you must:
have an approved graduation application
be completing your degree requirements the term you intend to graduate
All undergraduate students who have completed 90 credits and graduate students who have completed 27 credits will be automatically enrolled in a Graduation Readiness course in D2L. If you are eligible to graduate but haven't been enrolled in the course, email graduation@winona.edu to be added to the roster.
Learn more about the graduation requirements and the commencement ceremony.
Apply for Graduation
All graduates must submit the graduation application to confirm that they are completing their degrees.
You can indicate if you plan to participate in commencement on this application as well.
Participate in Commencement
To walk in the Commencement Ceremony, you must register by Nov. 3.
You indicate that you want to be part of the ceremony in your graduation application.
If your plans change, you can edit your graduation application.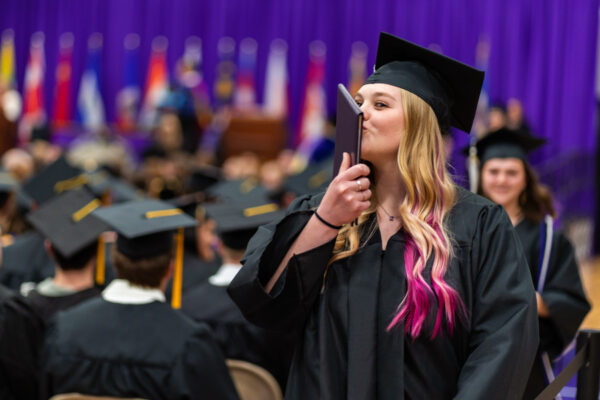 Doctor of Education (Ed.D.) and Doctor of Nursing Practice (DNP) graduates must declare their participation at least 12 weeks in advance to ensure appropriate regalia is available for the ceremony.
Check the address on your application is accurate so that your diploma is delivered to the right place.
Ceremony Rehearsal & Seating
There will not be a physical rehearsal prior to the commencement ceremonies. Review the rehearsal instructions (PDF) for details.
Undergraduate students will be seated by academic College. Before the ceremony, you must check in at your appropriate College table and pick up your name card.
Graduate students will be seated by academic College and degree type. Before the ceremony, you must check in at the Graduate Studies table and pick up your name card.
Accessibility Accommodations
If you need a sign language interpreter, please notify the Warrior Hub at graduation@winona.edu at least 6 weeks prior.
A portion of seating is reserved to accommodate people with limited accessibility. Let the users know of your accessibility needs, and we'll direct you to the venue area that best suits your needs.
Attire & Regalia
You are required to wear commencement regalia, including a cap and gown.
Check the WSU Bookstore for details about rental or purchase of regalia items.
If your graduation application has been approved, you can pick up earned provisional honor cords any time after Oct. 3 at the Warrior Hub.
Graduate students have an additional hood as part of their regalia. You'll purchase the hood and gown to wear to the commencement ceremony.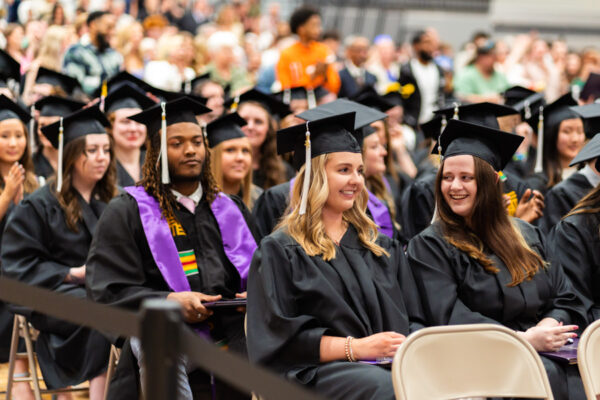 Decoration Policies
Academic protocol states that you cannot pin jewelry or flowers to your gown. You can decorate your mortarboard within reason.
WSU reserves the right to require you to remove any embellishment deemed inappropriate before you can participate in the ceremony.
Examples of inappropriate embellishment include, but are not limited to:
vulgar language
references to alcohol or drugs
inappropriate words or graphic images
any decoration that might obstruct the view of people seated behind you
Guest Tickets
Graduating students' guests do not currently need tickets to attend a commencement ceremony.
Students should monitor their WSU email accounts for more information about ticketing as the semester progresses.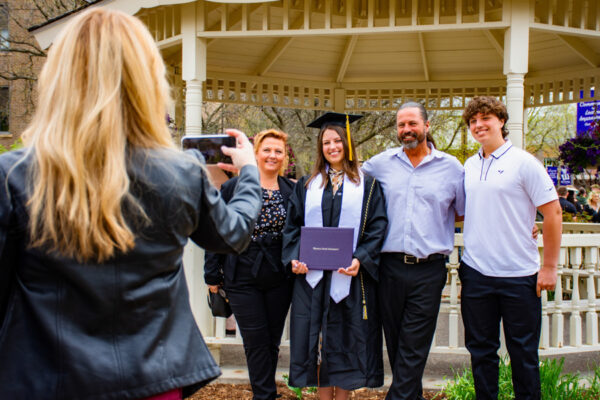 All viewing venues are seated on a first-come, first-served basis.
International students can also learn more about getting a visitor visa for family members.
Contact the Warrior Hub at graduation@winona.edu if you have any other questions.
Graduation is the posting of a degree on the official transcript once all degree requirements are met.
Commencement is the ceremony that celebrates the completion of a degree.
Yes! The graduation application is used to determine which students are completing their degrees.
All graduates need to complete the graduation application. You can indicate whether you plan to participate in commencement through this application as well.
Dual Degrees
Dual degree recipients are students earning two different degree types (for example, both a Bachelor of Arts and Bachelor of Science).
To earn dual degrees students must complete at least 30 semester hours beyond the required 120-128 credits. Students must complete all major requirements under both degrees, including separate minors if one is required.
Multiple Majors
Students completing two or more majors will be awarded a single degree based upon their primary major. By default, your primary major is the major with the greatest number of credits.
Any additional majors are listed on the student's transcript under the degree to be awarded. If a degree requires a minor, an additional major can be completed in place of a minor.
If any of the majors fall under different degrees (for example, one major leads to a Bachelor of Arts and another to a Bachelor of Science), the student may choose either degree.
WSU's Communications Department typically notifies hometown newspapers with graduate names within eight weeks of the end of the semester.
The list of graduates will also be posted online.
Contact University Communications for any further questions about media notification by calling 507.457.5024 or emailing wsuupdate@winona.edu.
Graduation applications can be viewed, updated and withdrawn by logging back into your application.
Your diploma will be mailed to the diploma address indicated on your graduation application 10-12 weeks after graduation.
Your transcript is the official certifying document of your degree. You can order a transcript as soon as your degree is posted.
Diploma sizes are 8.5 x 11 inches and will fit most standard frames.
The Degree Audit is used to guide students through their degree requirements. After graduation, the Degree Audit is not available.
Your transcript will list all WSU coursework and grades. Use your transcript as your official document proving your degree.
Original diplomas are mailed to the diploma address indicated on your graduation application 10 weeks after graduation.
If you have misplaced your diploma or just need another one, you can request to order a duplicate diploma.
Diploma orders are placed weekly and generally take 4-6 weeks for delivery.
For a non-expedited duplicate diploma shipped within the contiguous US, a $10 fee is required.
We will process your international or expedited diploma order as well and will work with you to determine the increased fees based on your location and delivery time expectations.
The fee will be placed on your WSU student account regardless of enrollment status, so please review the payment options.