Explore Residence Halls
WSU has residence halls to suit everyone's needs — whether you prefer a single or double room, a co-ed or same gender hall, a large living community or more privacy in a suite or apartment.
Schedule a Campus Visit
Living on campus is a huge part of the classic college experience. You'll be in the middle of just about everything on campus, while also sticking close to lakes, parks, and downtown Winona.
It's also a good way to ease the transition into your first year at WSU. In your residence hall, you have:
convenient access to campus amenities like the dining hall and academic resources
a Resident Assistant who will look out for you and answer any questions
easy opportunities to make friends
Having all of these support systems makes it easier for you to focus on classes and getting to know campus. You'll be moving away from home, but you won't be totally on your own.
If you want to live off campus though, we'll miss you!
Each residence hall is unique, but they all come with certain standard amenities, like lounge areas and laundry facilities.
If you have a disability that may require special housing considerations, let us know so we can provide you with the right resources.
Learn more about accommodations for accessibility in the residence halls.
Traditional Halls
If you are looking for the classic college experience, this is it.
Sheehan, Prentiss-Lucas, Conway, Richards, and Morey-Shepard are mostly traditional double rooms.
There is a limited number of single rooms.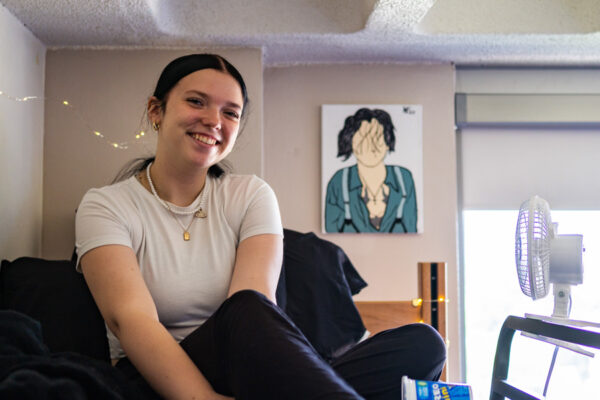 These are common options for first-year students. Upper-level students and transfer students are also welcome to live in any of the traditional residence halls.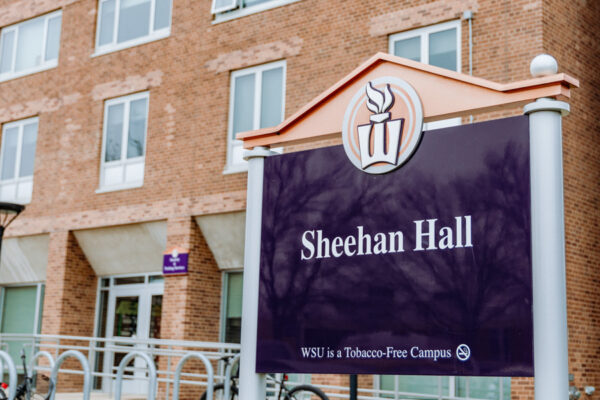 The tallest building in Winona, you'll have amazing views of the city and bluffs while experiencing the traditional college housing and roommate experience.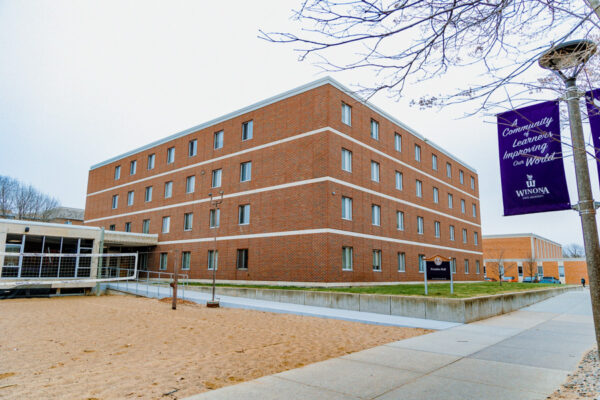 If you want to be more connected to on-campus activities, this hall may be for you. Some perks of Prentiss-Lucas include sinks in every room and a sand volleyball court.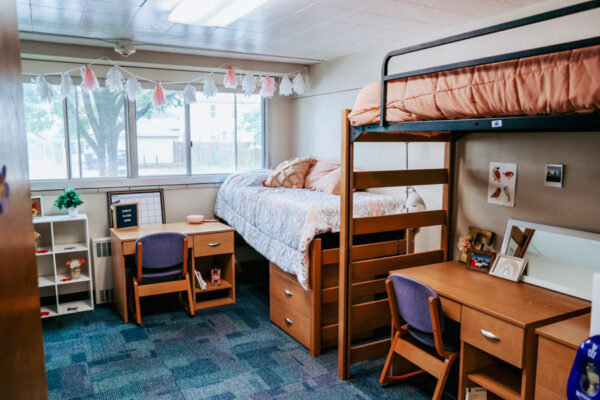 Richards is connected to Conway and Morey-Shepard. It's also close to classes and on-campus activities, keeping you in the campus loop.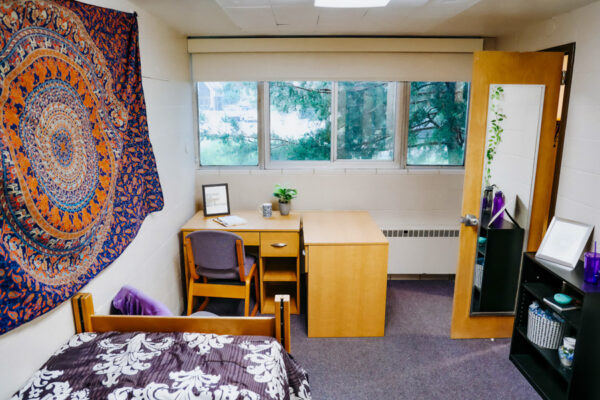 Straying away from traditional double rooms, Conway Hall offers single units and Gender-Inclusive Housing. This hall is connected to Richards and Morey-Shepard.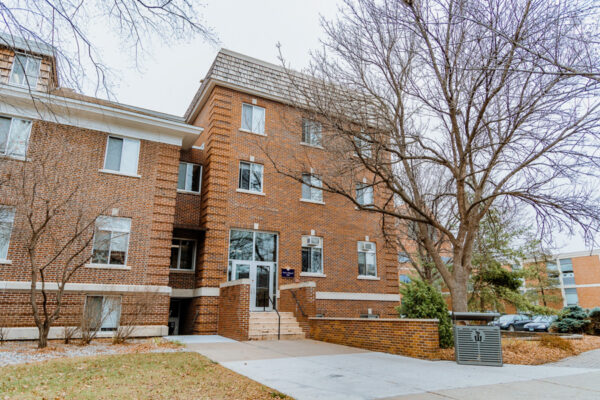 Morey-Shepard is a co-ed hall housing a wide variety of room options including doubles, singles, and several suites.
Gender-Inclusive Housing
Gender-Inclusive Housing is an option for students who would feel more comfortable living in a single room with a community restroom and shower that are designated as gender neutral.
In this designated area of Conway Hall, all rooms are single occupancy (meaning no doubles, no roommates). The gender-neutral restroom is shared by all students on the floor regardless of gender identity, expression, sex, or sexual orientation.
Gender-Inclusive Housing is also available to upper-level students in Kirkland Hall and East Lake Apartments.
Gender-Inclusive Housing is not the same as co-ed housing. In co-ed housing, students of different gender identities live in nearby rooms while maintaining separate bathroom facilities. Co-ed housing is available in other residence halls.
Suite-Style Halls
If traditional isn't really your thing, perhaps a suite is more your style.
The suite-style rooms have more privacy while still offering plenty of space for community events and impromptu get-togethers throughout the hall.
Explore Kirkland-Haake Halls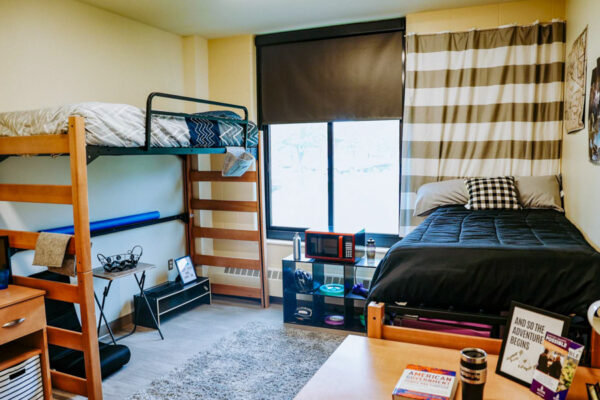 Haake Hall is home to mostly first-year students, while Kirkland Hall houses first-year, upper-level, and transfer students.
East Lake Apartments
All grown up. Upper-class students can spread out in the spacious East Lake Apartments.
Get ready to enjoy a little taste of off-campus independence with all the benefits of on-campus amenities.
Explore East Lake Apartments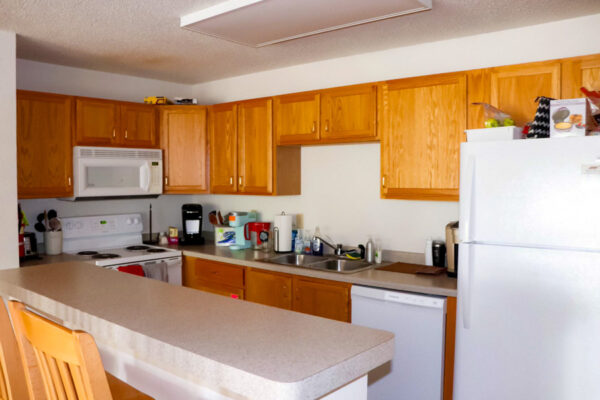 All residence halls and apartment facilities include basic amenities including:
laundry facilities
wi-fi and network printing
mail service
front desk resources
However, the halls on campus are all unique and offer different features. The Amenities Comparison Chart (PDF) can help you find the residence hall that's the best fit for your lifestyle.
Each residence hall has a front desk– the hall's go-to place for things ranging from network printing, package pick-up, and equipment rental (including kitchen supplies, games, snow shovels, etc.)
Equipment rental requires a Warrior ID for checked-out items.
When open, the hall is staffed by student workers to help you with a variety of services.
Common areas in the halls offer plenty of opportunities to meet other students.
Some halls have recreation rooms with ping-pong tables, pool tables, and other games. Others have outdoor courtyards and volleyball courts.
There is a perfect space for you whether you want a chill night with friends, or some friendly competition.
These are shared spaces for the whole community, so students are expected to be respectful of others, keep areas clean and in good repair, and leave furnishings in the rooms.
You should always sleep in your own room, and you have 24 hours to collect any personal items left in a common area. Otherwise, staff will dispose of lost items.
Disrespectful use of common areas may result in the loss of privilege to use the space.
Each residence hall has common kitchens for residents to cook in. Each kitchen has a stove, refrigerator, microwave, and toaster. Some floors have kitchenettes that have a microwave, refrigerator, and toaster.
For the safety of all students, residence hall kitchen facilities should be used when preparing food.
For the safety of all students, residence hall kitchen facilities should be used when preparing food.
The following are allowed in residence hall rooms:
Refrigerators (up to 4.5 cubic feet)
Microwaves (700 watts or less)
Single Serve Coffee Maker (no heating elements)
The following items are not allowed in the residence halls:
Appliances with exposed heating elements (toasters, hot plates, etc.)
Air Conditioning Units
Personal Heaters
Wax Warmers
Halogen Lamps
LED strip lights
Refer to the Housing Policies & FAQs and our list of What to Bring & Not to Bring (PDF) for more information on approved and prohibited items.
Students should check their campus mailbox often as this this is one way the University communicates important information.
In addition, students may receive mail from family, friends, and businesses.
To mail something to a student, please use the following format:
Student Name
Residence Hall & Room #
Residence Hall Street Address
Winona, MN 55987
Make sure that mail is addressed to the student with their full name—not a nickname or a parent's name. 
Mail is only delivered if it matches the student names in our on-campus housing database. 
Forwarding Mail
The Housing Office will forward mail up to 15 days after a student has officially checked out of their residence hall room.
Students are responsible for contacting businesses (Amazon, Target etc.) to reflect their updated address.
After 15 days all mail will be "returned to sender".
Each hall—including the East Lake Apartments and the Sustainability House—has free laundry facilities for students to use.
All laundry facilities can be monitored by using the CSCGO app to help you track the status of washers and dryers.
You can also use this app to put in work requests to fix broken machines. Otherwise, notify the hall front desk of any mechanical failure involving the laundry machines.
Contact Housing & Residence Life